An Apple a day might not keep the doctor away: iGiant's China stores face closures, deep cleans, staff temperature checks amid virus outbreak
Cook quizzed on supply chains, widens revenue guidance for second quarter
Apple is in talks with suppliers located in Wuhan, China, to "mitigate" any disruption to production caused by the coronavirus outbreak, said CEO Tim Cook.
In a conference call on Tuesday with Wall Street analysts to discuss the iGiant's Q1 financial figures, the head honcho was asked what Apple's strategy is with regard to dual sourcing production and manufacturing in general, given the deadly spread of the bio-nasty.
Cook said, amid travel bans and city lockdowns in the Middle Kingdom to tackle the outbreak, Apple is "working very closely with our team and our partners in the affected areas, and we have limited travel to business critical situations as of last week. The situation is emerging and we're still gathering lots of data points and monitoring it very closely."
Due to this uncertainty, Apple widened its revenue guidance for its second quarter of fiscal 2020, which ends in March, to somewhere between $63bn and $67bn, forewarning investors and staving off any possible lawsuits. Like most Western tech giants, Apple outsources production of its shiny gear to a bunch of companies in China, and assembles some Mac stuff in the US and Ireland.
The death toll of coronavirus 2019-nCoV has risen above 100 in China, and infections have more than doubled to 6,500, according to Chinese state media. Infection has spread across the Middle Kingdom, and on to at least 16 countries globally.
The Chinese government has put travel restrictions in place, locking down the city of Wuhan, the capital and manufacturing hub of China's Hubei province. British Airways has paused all flights to China, and United in the US is scaling back its service.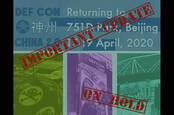 Coronavirus claims new victim: 'DEF CON cancelled' joke cancelled after DEF CON China actually cancelled
READ MORE
Cook said "some suppliers" in Wuhan are "our ultimate source, and obviously we are working on mitigation plan to make up any expected production loss. We factored best thinking and the guidance that we've provided you."
As for suppliers operating outside of Wuhan, "the impact is less clear at this time," he added. "The reopening of those factories after Chinese New Year has been moved from the end of this month to February 10, depending upon the supplier location."
So it is possible shortages will show up for some Apple kit made by those manufacturing sites.
As for Apple's shops in China, Cook said it has closed one store temporarily, and a number of channel "partners" have also shuttered for the time being. Apple is not alone, we note: Google, for instance, is also temporarily closing its China offices for the time being.
"Many of the [Apple] stores that remain open have also reduced operating hours," Cook said.
"We're taking additional precautions and frequently deep cleaning our stores as well as conducting temperature checks for employees. While our sales within the Wuhan area itself are small, retail traffic has also been impacted outside of this area, across the country, in the last few days. And again, we have attempted to account for this in our guidance."
Cook said his thoughts are with the people caught up in the affected regions, and Apple has apparently donated to groups battling to contain the virus.
In terms of tech-sector impact, the bio-nasty has so far forced Huawei to postpone its developer conference in Shenzhen, the same thing happening to DEF CON China, and the stock market was jittery amid supply-chain uncertainties, among other setbacks. ®