This article is more than 1 year old
El Reg tries – and fails – to get its talons on a Brexit tea towel
Ours is on its way – a fortnight after B-Day
There's good news and bad news for those seeking to commemorate the UK's departure from the European Union on 31 January.
You too can own a "Got Brexit Done" tea towel, courtesy of the Conservative Party.
Sadly, you cannot do the drying up with delight on the big day itself. Deliveries of the collection (which also includes a lapel pin, a mug and a magnet that presumably repels an entire political and economic union) won't start until the week commencing 10 February.
We asked the Conservatives why we would not be able to show our towel-based joy until almost a fortnight after the event and will update with any response.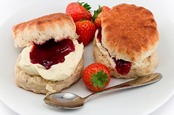 Patriotic Brits rush into streets to celebrate… National Cream Tea Day
READ MORE
The product is, after all, "PROUDLY made in the UK" so we can't imagine that shipping it in would be a problem. Unless those pesky raw materials have to come in from elsewhere. We're sure that those in charge would have considered such trifling matters before nudging Blighty toward the door marked "Exit".
That said, the "Got Brexit Done" lapel pin, complete with the 31.01.20 date (and also not due to ship until 10 February), lacks the "made in the UK" trumpeting. We checked in with the Conservatives to ensure it was merely a typo rather than a sign of offshoring and will update with a response.
While some Americans may have had their "Make America Great Again" baseball hats, or even the "Keep America Great Again" version doing the rounds (not to be confused with the Japanese aircraft carrier Kaga, which was sunk at Midway, or the Catalan "Caganer" figure, which brings unexpected faecal delight to regional nativity scenes), a tea towel seems far more appropriate for modest Brits.
The "Got Brexit Done" tea towel is not the first such commemorative item. Political side-sniper "Guido Fawkes" frothed over "Warped Remainers" making their own version back in 2019. That incarnation drew attention to elderly people who may or may not have voted for departure but sadly did not live to see the impact of their decision.
Still, we have ours on order anyway (£2.50 postage is not included). While it won't be here in time to mop up the spilled Champagne/floods of tears (delete as appropriate by the end of the month), hopefully it will survive to the end of 2020, when the real excitement will start.
By then it will likely be a bit damp, sport a few distressing stains and suffer a little fraying at the edges.
And so will the tea towel. ®