This article is more than 1 year old
Gin and gone-ic: Rometty out as IBM CEO, cloud supremo Arvind Krishna takes over, Red Hat boss is president
Shares up more than six per cent after-hours as Big Blue's Ballmer exits in surprise management shakeup
In a surprise announcement on Thursday, IBM named a new CEO, Arvind Krishna.
Virginia "Ginni" Rometty, who has led the company since 2012, will step down on April 6 to serve as executive chairman of the board until her retirement at the end of the year.
"Arvind is the right CEO for the next era at IBM," said Rometty in a statement. "He is a brilliant technologist who has played a significant role in developing our key technologies such as artificial intelligence, cloud, quantum computing and blockchain. He is also a superb operational leader, able to win today while building the business of tomorrow."
Krishna will have a job to do helping investors forget Big Blue's business woes. Under Rometty, IBM's share price declined about 26 per cent while the S&P 500 surged 160 per cent and the NASDAQ Composite Index rose 257 per cent.
It was only in January 2018 that the company reported growth after 22 consecutive quarters of declining revenue. More recently, its fourth quarter 2019 earnings report again marked a reversal of five previous down quarters. Shortly after the company's announcement of new leadership, IBM stock was up about seven per cent in after-hours trading.
IBM credits Rometty with overseeing the acquisition of 65 companies and developing its $21bn hybrid cloud businesses while advancing the biz's AI, quantum computing, and blockchain efforts. IBM says she divested "nearly $9bn in annual revenue to focus the portfolio on IBM's high value, integrated offering."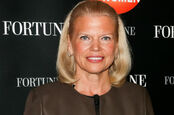 *David Attenborough voice* And here we have, in the wild, a rare glimpse... of what may be... a positive IBM quarter
READ MORE
Rometty, 62, also oversaw what's alleged to be a company-wide effort to get rid of older workers. Several legal cases on this are currently in process and the eventual bill from them could be a major cost to Big Blue, as well as the drop in staffer morale among the IBM "family."
She also presided over Big Blue's crackdown on remote working, forcing employees to move to hub cities, a policy seen as a backdoor attempt to weed out older staff who were settled in their neighborhoods and unable to uproot to San Francisco, New York, Austin, and the like.
Rometty's replacement, Krishna, 57, led IBM's acquisition of enterprise Linux biz Red Hat. He's currently SVP for cloud and cognitive software. James Whitehurst, 52, IBM SVP and CEO of Red Hat, has been appointed to IBM's board as president of the company.
IBM's cloud and cognitive services group was one of the bright spots in the company's Q4 2019 earnings, with a 9 per cent revenue increase. It's systems group also performed well, with a 16 per cent increase, driven by z15 mainframe sales.
"IBM has such talented people and technology that we can bring together to help our clients solve their toughest problems," said Krishna in a statement. "I am looking forward to working with IBMers, Red Hatters and clients around the world at this unique time of fast-paced change in the IT industry." ®