Microsoft on Wednesday made noise about inclusivity, trust, and sustainability, while also gleefully noting that it had banked about $1.5bn more than expected in its second quarter of its fiscal 2020 year.
In a statement accompanying the quarterly earnings release, Microsoft CEO Satya Nadella used the words "innovating," "differentiated technology stack," "leading," and "customers' success." You can choose your own adventure by stringing those terms together in various combinations.
"Along with our expanding opportunity, we are working to ensure the technology we build is inclusive, trusted and creates a more sustainable world, so every person and every organization can benefit," he said.
That sentiment – manifest in recent initiatives like Microsoft's commitment to become carbon negative by 2030 – appears to be an attempt to counter public discontent about the social ills amplified by technology companies. Welcome though it may be, shareholders are probably more concerned about how the Windows empire can afford such social responsibility. They needn't worry, as these GAAP figures, for the three months to December 31, show:
Revenue hit $36.9bn, an increase of 14 per cent; analysts had been expecting more like $35.67bn.
Operating income came to $13.9bn, representing a 35 per cent increase.
Net income was $11.6bn, up 38 per cent, or about $128m a day.
Diluted EPS was $1.51, which is up 40 per cent.
Shareholders collectively received $8.5bn through share repurchases and dividends during the Q2 2020 fiscal year.
Redmond's three main business units performed as follows:
Productivity and Business Processes delivered $11.8bn in revenue, up 17 per cent.
Intelligent Cloud generated $11.9bn, an increase of 27 per cent.
Personal Computing, prefixed with the word "More" for some reason, produced $13.2bn, an increase of 2 per cent.
However those groups obscure just how much cash has rained down on Microsoft from the cloud. The company's Azure business saw its revenue surge 62 per cent year-on-year. And its Dynamics 365 service – cloud-based enterprise resource planning – jumped 42 per cent.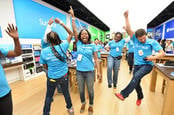 What are those Windows 10 PCs running? Several flavours from 2019, by the looks of things
READ MORE
Other business unit segments showed respectable, if less impressive, revenue growth in the 25-30 per cent range: Office 365 Commercial, up 27 per cent; Server products and cloud services, up 30 per cent; Windows Commercial products and cloud services, up 25 per cent.
And then there were more modest results: Search advertising, up 6 per cent; Surface, up 6 per cent; Enterprise services, up 6 per cent.
The one disappointment was the Xbox content and services segment, which declined 11 per cent, presumably the result of a market lull while gamers await the Xbox Series X, due in the 2020 holiday season.
On the company's earnings conference call, Nadella and CFO Amy Hood didn't say anything surprising as they recapped the successful quarter. Asked about the impact of the GitHub acquisition on its developer strategy, both emphasized that having a strong set of tools for developers will help the company continue to grow.
Hood said the company's results show just how much revenue opportunity exists in cloud. ®