This article is more than 1 year old
US government grounds drone fleet (no, not the military ones with Hellfire missiles) over Chinese espionage fears
Paranoid stance comes as Interior Department website falls over
The US government has indefinitely grounded its fleet of roughly 800 drones over ill-defined fears of Chinese espionage.
On Wednesday, Secretary of the Interior David Berhardt signed a "Temporary Cessation of Non-Emergency Unmanned Aircraft Systems Fleet Operations" order [PDF] that will pull his department's fleet of drones out of the sky until new rules are developed.
No clear explanation for the decision has been given apart from "concerns which include cybersecurity, technological considerations, and facilitating domestic production capability."
Berhardt gave an interview to the Trump Administration's newspaper-of-record, the Wall Street Journal, on Tuesday and in its subsequent story, the WSJ said that the reason for the no-fly decision was concern over the fact that most of the department's drones where manufactured in China and the rest contained some Chinese-made components. Bernhardt said he hoped American manufacturers would replace foreign drone suppliers over time.
It's hard to tell if the Interior Department is genuinely concerned about the Chinese government grabbing information from, or even commandeering, US drone flights as they carry out missions that include tracking wildfires, search-and-rescue missions, monitoring infrastructure like bridges and dams, topological surveys and similar. Alternatively the decision is a reflection of the wider trade war with China and the American-first sentiment pushed by the current administration.
A real risk?
Theoretically, if China was able to track the location of drones due to some kind of backdoor built into drones made in its country, the government could discover the location of critical defense assets. Or learn valuable intelligence. But, as with the recent furor over Huawei equipment being included in mobile networks, those concerns might also edge towards paranoia.
Bernhardt says he decided to issue the order after digging in potential drone security risks from drones. But at the same time as announcing the ban, said he would grant exceptions for the most critical uses of drones – fires and seeking people in danger – as well training flights.
As for how and when the ban will end, the order gives 30 days for new guidelines that will "establish procedures to identify Designated UAS, which are UAS manufactured by designated foreign-owned companies or UAS with designated foreign-manufactured components."
In other words, new procurement rules over which drones the interior department will buy and use in future. As with Huawei, the main reason that Chinese goods have been widely adopted is that they dominate the market thanks to being just as good, if not better, than alternatives, and cost less.
While the US military has used its extensive budget to buy drones from manufacturers based outside China, it's not clear that the Interior Department needs to do the same.
The decision will most strongly impact Chinese drone manufacturer DJI, which leads the market in drone technology. It is not happy and put out a statement noting that it was "extremely disappointed" by the decision and said that it "inappropriately treats a technology's country of origin as a litmus test for its performance, security and reliability."
Instead, it said, the decisions to ground the fleet "have little to do with security and are instead part of a politically-motivated agenda to reduce market competition and support domestically produced drone technology, regardless of its merits."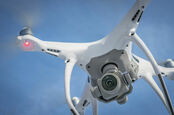 Now Chinese-made drones rubbing US govt up the Huawei: 'Strong concerns' DJI kit threat to national security
READ MORE
It pointedly added: "We are opposed to the politically-motivated country of origin restrictions masquerading as cybersecurity concerns and call for policymakers and industry stakeholders to create clear standards that will give commercial and government drone operators the assurance they need to confidently evaluate drone technology on the merits of performance, security and reliability, no matter where it is made."
The decision will have a greater impact beyond one Chinese company, however: the drones are strongly favored by experts for reaching inaccessible and/or dangerous places and for carrying out missions in bad weather.
As the recent death of basketball star Kobe Bryant in a helicopter crash in fog made clear, flying can be extremely dangerous and if drones are pulled out of service, it may mean that government personnel and others such as firefighters are put into dangerous situations instead. Drones are also extremely cost-effective, faster to launch and can carry out many more missions over longer periods of time.
Meanwhile, in an unfortunate indicator of its technological prowess, the Interior Department's entire website disappeared on Wednesday morning for several hours, providing visitors with a bad gateway error message instead.
A spokesperson informed El Reg that its IT department was working on getting the website back up but has not provided any information beyond that, despite inquiries. ®