And if you turn to your left, you can see the walls of Amazon Web Services' vast server farm. And next to it, a gift shop and visitor center
We'll stop here so you can browse the shelves for books and toys
---
We used to joke Amazon is a cloud server giant with a gift shop in the parking lot. Well, we shall joke no more: two out of every three dollars the Jeff Bezos empire banked worldwide, over the final three months of 2019, came from Amazon Web Services.
That shouldn't be too surprising, though, as it is the market leader, and the margins in retail are razor thin compared to cloud. Still, it's an indicator of how the internet titan has changed over the years, from books to bytes. For the fourth quarter [PDF] of 2019, ended December 31, Amazon's GAAP figures are as follows:
Revenue of $87.4bn was up per 21 per cent from last year's $72.4bn Q4, and topping analyst estimates of $86bn.
Net income checked in at $3.27bn, up 7 per cent from $3.03bn the year-ago quarter.
Non-GAAP earnings per share of $6.47 blew away analyst predictions of $4.11, and beat last year's $6.04 earnings.
AWS revenue was $9.95bn, up 34 per cent from Q4 2018's $7.43bn. Operating income for the cloud operation was $2.6bn, up 18 per cent from $2.2bn last year. Total Amazon operating income was $3.88bn, meaning around two thirds of the operating profit Amazon made came from its cloud operation this past quarter.
For the full fiscal year, also ended December 31:
Revenue was $280.5bn a 20 per cent gain from $232.9bn in 2018.
Net income of $11.6bn was up 13 per cent from $10.1bn at the end of 2018.
EPS of $23.01 was up from from $20.12 last year.
AWS revenues for the full year were $35.03bn, while operating income was $9.2bn. This was up 36 per cent from 2018's revenues of $25.7bn, and up 26 per cent from 2018's $7.3bn operating income.
Speaking to analysts on the quarterly earnings call, Amazon CFO Brian Olsavsky said the growth in AWS wasn't fueled by any one product, but was the result of solid performance across the board and a sign Amazon's efforts to pump cash into hardware and sales was paying off.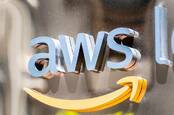 Hapless AWS engineer spilled passwords, keys, confidential internal training info, customer messages on public GitHub
READ MORE
"It has been pretty broad-based and it is the culmination of adding products and features, adding to our sales and marketing teams, and having a broad base of customers," Olsavksy said. "We continue to add infrastructure capabilities to support our global expansion as well."
As is usually the case, Amazon founder and CEO Jeff Bezos opted to mark the occasion by talking up the company's side project: selling material goods and streaming video.
"We've made Prime delivery faster — the number of items delivered to US customers with Prime's free one-day and same-day delivery more than quadrupled this quarter compared to last year," Beez boasted. "Members now have free two-hour grocery delivery from Amazon Fresh and Whole Foods Markets are in more than 2,000 US cities and towns."
"Prime members watched double the hours of original movies and TV shows on Prime Video this quarter compared to last year, and Amazon Originals received a record 88 nominations and 26 wins at major awards shows."
Amazon shares hit $2,052.80 in after-hours trading, up 9.7 per cent. It is now a trillion-dollar business. ®