BSOD Burgerwatch latest: Do you want fries with that plaintext password?
Getting a whiff of unsupported OS too
---
Poor old McDonald's can't seem to catch a break. No sooner had it decided to rename the Blue Screen of Death to "a reboot", more imagery has come to our attention. This time the company's new kiosks were flashing their unmentionables.
In this case, eagle-eyed Register reader "Dafydd F" noted the touchscreen in the act back in March 2019, and made his brother snap the borkage. Inspired by last week's, er, "reboot", he got in touch.
The glimpse behind the scenes of the patty-purchasing fondlescreens (although do wash your hands after pawing at them) showed the refreshingly retro GUI presumably used to set the things up along with an altogether more alarming window replete with plaintext passwords for all to see.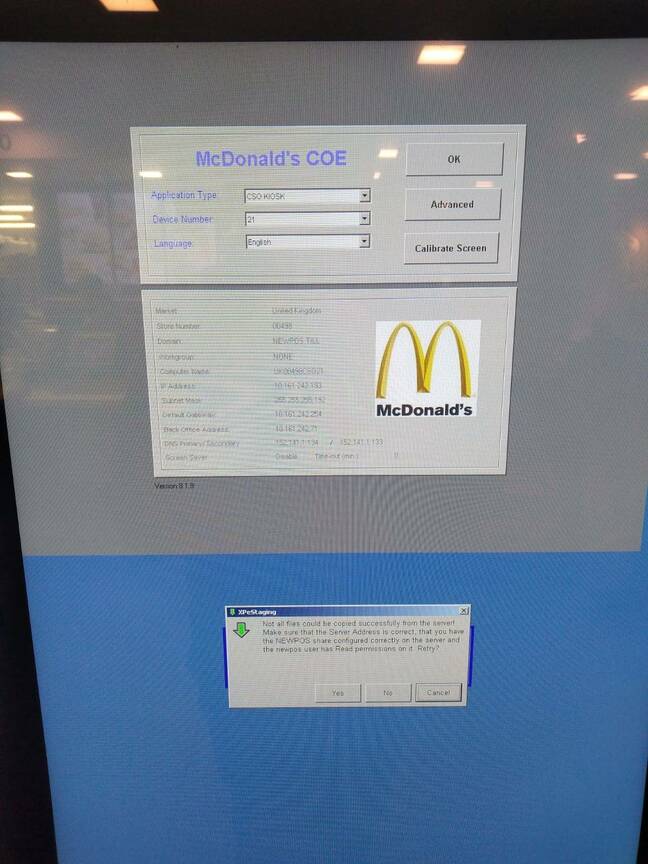 Click to enlarge
Our best guess is that the terminal had encountered a problem and some PFY back at HQ was trying to bring the poor thing back to life in a remote-access session. Sadly, it appears the operative did not realise their activities were visible to patrons.
Heck, we've all been there, idly tapping into notepad what we thought of the user, blissfully unaware that the subject of our ire was staring at the screen. No? Just us then?
The red boxes in the image below were the work of your hardworking vultures in order to spare the blushes of the fast-food behemoth.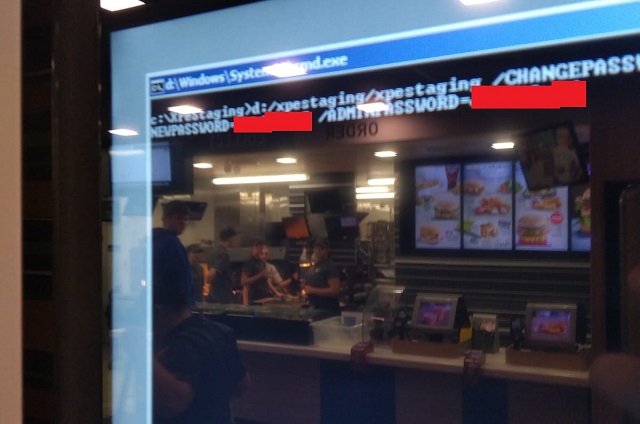 Spoiler: the new password was not 'ronald'
El Reg asked McDonald's for an explanation of what was actually happening and will update if the house of the Hamburglar cooks up a comment.
There was also some inter office ponderings at Vulture Towers of the OS in use. The Windows Classic theme of the user interface seems to put the devices well into the realm of unsupported operating systems.
We asked the chain if it was inflicting software past its sell-by date on punters but the gang has remained schtum on what is actually powering the things.
Borkage of the interactive food-ordering kiosks aside, those menu screens appear to also be struggling to maintain their tasty displays. Behold another "reboot" (in McDonald's parlance) courtesy of another Register reader, James, snapped last month.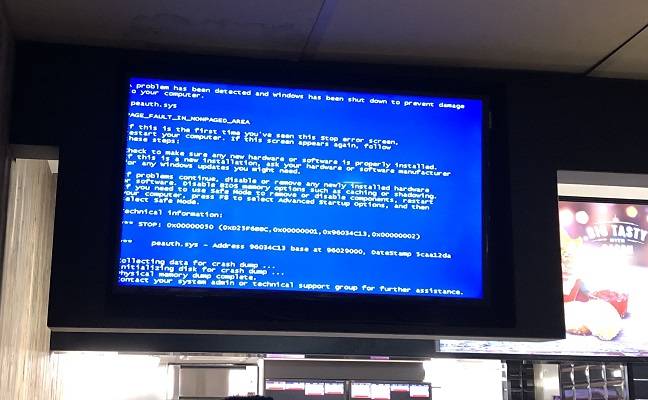 Behold the 'reboot'
"This time," remarked our reader, "they were using peauth.sys as their strategic page fault reboot vector."
Oh dear. Someone in the IT team of the Golden Arches has clearly not been "lovin' it" in recent months. ®