This article is more than 1 year old
SF tech biz forks out $146m in fines, settlements after painkiller makers bribed it to design medical software that pushed opioids to patients
Practice Fusion pocketed kickbacks for crafty alerts and drop-down menu
A US software developer must cough up $145m in fines and settlements – for building an application that counseled doctors to prescribe highly addictive pain pills against medical guidelines after it was bribed by painkiller manufacturers to rig the system.
Practice Fusion had developed a cloud-based medical record management service that generated alerts if patients' symptoms or circumstances matched certain criteria. These alerts would suggest courses of action that doctors could add to people's care plans.
One alert in particular would pop up asking for the patient's level of pain. If the pain persisted, another alert would ask for a more detailed description of the discomfort. Finally, if the patient's pain continued above a certain level, a third alert would appear recommending a treatment plan be set up, with a drop-down menu suggesting various options, from physical therapy to opioids.
These alerts, as prosecutors politely put it, "did not always reflect accepted medical standards." Instead, the pop-ups were bought and paid for by drug makers to push doctors into prescribing powerful opioids – a class of highly addictive painkillers that kill more than 130 people through overdoses every day in America alone.
The dodgy drop-down menu built by Practice Fusion ... Opioid therapy was offered to patients "against medical guidelines in several respects," the United States Dept of Justice said
According to court documents [PDF] filed in a Vermont federal district court this week, Practice Fusion deliberately and secretly engineered its software's user interface this way, even though the advice was not medically sound, after pocketing bungs from at least one opioid manufacturer, and doctors and patients were none the wiser.
Specifically, prosecutors said the San-Francisco-based developer accepted "sponsorship" payments to include opioid therapy in its alert-generating clinical decision support (CDS) tool. One unnamed drug maker in particular, referred to as Pharma Co. X, slipped $1m in kickbacks to make this happen. The tech bros estimated Pharma Co. X could expect an extra 2,777 new patients per doctor as a result of its user-interface dark pattern, which would net roughly $8.46m to $11.23m in revenues.
In a statement, prosecutors described how CDS was designed to manipulate doctors into pushing painkillers to patients:
In exchange for "sponsorship" payments from pharmaceutical companies, Practice Fusion allowed the companies to influence the development and implementation of the CDS alerts in ways aimed at increasing sales of the companies' products. Practice Fusion allegedly permitted pharmaceutical companies to participate in designing the CDS alert, including selecting the guidelines used to develop the alerts, setting the criteria that would determine when a healthcare provider received an alert, and in some cases, even drafting the language used in the alert itself.
The CDS alerts that Practice Fusion agreed to implement did not always reflect accepted medical standards. In discussions with pharmaceutical companies, Practice Fusion touted the anticipated financial benefit to the pharmaceutical companies from increased sales of pharmaceutical products that would result from the CDS alerts. Between 2014 and 2019, health care providers using Practice Fusion's EHR [electronic health records] software wrote numerous prescriptions after receiving CDS alerts that pharmaceutical companies participated in designing.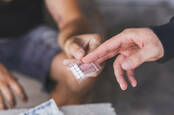 A-high: Prototype drug squad bot to patrol Instagram, Twitter, Reddit, YouTube, etc for dodgy ads for opioids
READ MORE
"Across the country, physicians rely on electronic health records software to provide vital patient data and unbiased medical information during critical encounters with patients," added Principal Deputy Assistant Attorney General Ethan Davis.
"Kickbacks from drug companies to software vendors that are designed to improperly influence the physician-patient relationship are unacceptable. When a software vendor claims to be providing unbiased medical information – especially information relating to the prescription of opioids – we expect honesty and candor to the physicians making treatment decisions based on that information."
Practice Fusion faced a string of civil lawsuit claims and two criminal charges for breaking America's anti-kickback laws. It chose to settle those cases by paying $26m in fines and $118.6m in out-of-court settlements. In doing so, it admitted it, in the words of Uncle Sam's lawyers, "solicited and received kickbacks from a major opioid company in exchange for utilizing its EHR software to influence physician prescribing of opioid pain medications."
The biz was acquired by Allscripts in 2018 for $100m. Although Pharma Co X was not named, Reuters reports it is understood to be Purdue Pharma, a pharmaceutical conglomerate facing intensive legal scrutiny over its drug Oxycontin, a brand of opioid prescribed by doctors. ®