This article is more than 1 year old
Very little helps: Tesco flashes ancient Windows desktop on Scan-As-You-Shop device
Only extra special Clubcard holders entrusted with Media Player on the move
We interrupt the McDonald's-based borkage to bring you news of a Windows desktop spotted in an unlikely place – the handheld device used by shoppers to scan their purchases at the Tesco store in Carlisle, UK.
Register reader Andy snapped the scanner in January as it flashed its undercrackers at passing customers. "I managed to resist the temptation to have a play to see how far I could get," he told us, which is a shame. A swift game of Solitaire or firing up Internet Explorer (to read El Reg, of course) would seem to be a much better use of one's time than trudging up and down the aisles in search of toilet paper.
"Scan as you shop" is exclusive to Tesco Clubcard holders who, because they have allowed the retail giant to slurp their shopping habits, can presumably be trusted to wield the Windows-based handhelds rather than hand their baskets to a checkout clerk or endure the snort-inducing "unexpected item in the bagging area" from the self-service machines.
Windows, it seems, is a bit of a thing at Tesco. One of our hungry vultures spotted Windows XP ruining a disk in the corner of a store in 2018, while some shonky security hygiene left images of vehicles entering and exiting some of the retailer's car parks available to all.
This time it is what looks a bit like Windows CE in the spotlight. Also known as Windows Mobile (no, not that one) and PocketPC, the OS first put in an appearance in the late 1990s and was initially aimed at handheld computers. It also found its way into phones (something that prompted former CEO Steve Ballmer to scoff at the newly announced iPhone back in the day).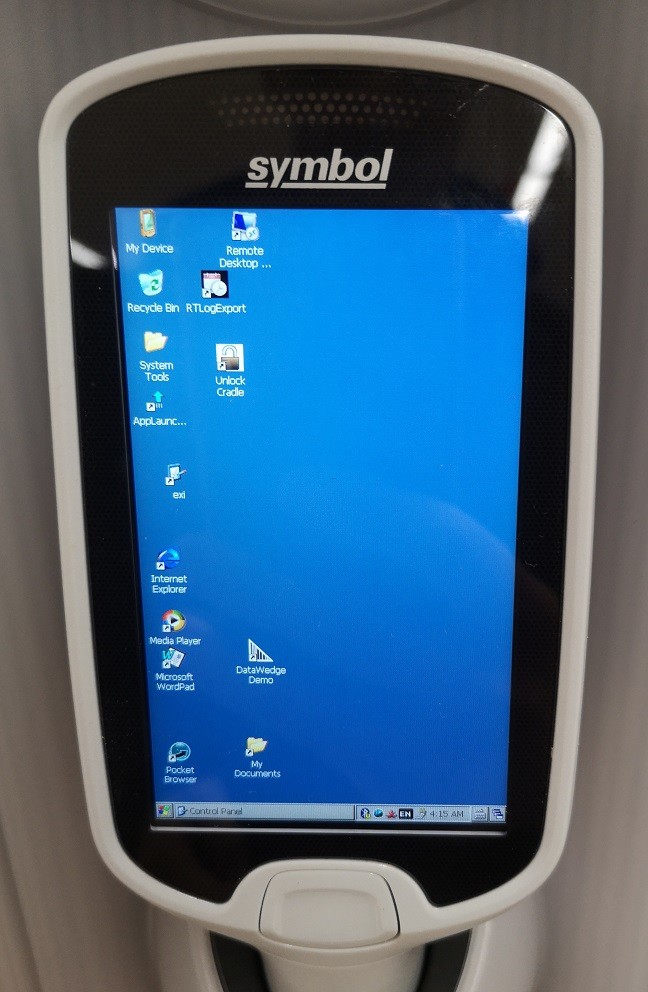 Click to enlarge
Unlike Microsoft's later foray into the smartphone sector, Windows Phone, the more industrial CE has endured. The last version came out in 2013 and has a few years of life left before Microsoft pulls the plug.
As for what is on Tesco's devices, we reckon it is probably Windows Embedded Compact 7, which featured the twin joys of Silverlight and Internet Explorer (replete with Flash 10.1). Certainly, that Media Player icon gave us a shudder of nostalgia. It is still supported until 2021, for those looking mournfully at their recently orphaned Windows 7 installations.
Naturally, The Register asked Tesco what might have befallen its finest, but the grocer has yet to give us an explanation.
In the meantime, hopefully you too will find a Scan-As-You-Shop device ready and willing to receive something highly NSFW as you cruise the shelves. After all, "Every Little Helps." ®