This article is more than 1 year old
Infor is now a Koch company: Megacorp swallows cloud ERP outfit after investing billions in early-stage funding
Golden Gate Capital jettisons equity before IPO can kick in
Cloudy ERP outfit Infor has been picked up by Koch Industries after investment biz Golden Gate Capital sold off its remaining equity stake.
New York-based Infor lays claim to 68,000 customers with over 71 million cloud users. While the financial terms of the transaction were not disclosed, Bloomberg reported the deal valued Infor at $11bn, or nearly $13bn including preferred shares.
Infor itself was still private and was a candidate for an Initial Public Offering when Koch swooped in to scoop up the rest of the company. The ERP outfit had already received a $1.5bn investment from Koch Equity Development (KED) in January 2019. KED had also invested $2bn in early 2017 and overall, KED has invested over $4bn in Infor over the years.
In the last set of published figures for FY19 (PDF), Infor reported $3.2bn in total revenue and 21.6 per cent growth with subscription revenue of $652m, although that's only a 3 per cent revenue growth overall for the year. Of those revenues, Infor reported that 63 per cent was from maintenance and subscriptions.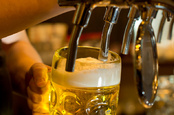 Keg-xistential issues: Fullers pours away £10m Infor ERP system after selling brewing business
READ MORE
Infor was founded in 2002 and sells its CloudSuite product to a variety of companies, specialising by sector. Its customers can be found in the aerospace industry, healthcare delivery networks and some brewers. It also counts 17 of the top 20 global banks among its customers.
During its 18 years under Golden Gate Capital, Infor has seen revenues grow to current levels from just $30m in 2002 and employee numbers rising from 250 to 17,200 staff. However, growth was flat from FY2018 to FY2019, going from $3.1bn to $3.2bn.
Describing itself as having "Top 3 ERP vendor status", Infor has lumped itself in with the likes of Oracle and SAP, although we're pretty sure Microsoft might have a thing or two to say about that as it continues to grow its Dynamics business.
Koch Industries, on the other hand, has around $110bn in annual revenues and owns a diverse range of companies, from fertilisers to data analytics. Koch companies have sprinkled $26bn over technology-related outfits during the last six years and plans to position Infor as one of the most well-capitalised tech firms.
The deal is expected to close in the first half of 2020. ®