This article is more than 1 year old
Cheap as chips? Not for much longer, analysts reckon, after rough year for memory makers
'It's going to be amazingly OK'
The roller coaster ride that is the semiconductor industry suffered its worst annual slump in almost two decades in 2019 – and is now braced for the potential disruptions caused by the outbreak of the coronavirus.
According to freshly laid figures from the Semiconductor Industry Association (SIA), global revenues plunged 12 per cent year-on-year to $412bn, the biggest drop since the dot com bust in 2001.
Collapsing shipments of memory, which make up about a quarter of the total semiconductor market, has been even more pronounced. The SIA said prices in memory were down 32.6 per cent last year – DRAM dropped 37.1 per cent, and flash was down 25.9 per cent.
The fourth financial quarter of 2019 marked the end of a brutal year for memory makers. Samsung's annual financial results last week showed group operating profits were sliced in half to KRW 27.77trn ($23.2bn/ £17.9bn), the biggest percentage decline in a decade.
Sammy chalked up a big proportion of this to "the continued fall in memory chip prices", saying that even though it shipped more product in volume terms, the value of them fell. Annual semiconductor revenues dropped 24.7 per cent to KRW64.94trn ($54.6bn/£49.4bn), and divisional operating income was down by two thirds to KRW 14.02trn ($11.8bn/ £9.07bn).
Semiconductors accounted for more than 75 per cent of Samsung's profit in 2018, and 68.5 per cent in 2017. Last year it accounted for a little more than half.
During the first nine months of last year, revenues at the the other top two memory suppliers – SK Hynix and Micron – plunged by at least 33 per cent compared to the same period in 2018. Samsung was the worst hit.
But Sammy reckons the rut could soon be over. In its earnings call for the fourth quarter ended December 31, the company said it expects the global chip market to recover this year, citing increased demand from data centres and 5G smartphones. "Looking ahead to 2020, Samsung expects improvements in overall business performance but also sees continued uncertainties in the global business environment," the company said.
SK Hynix, the world's second-largest memory chip maker, echoed Samsung's sentiments. Last week, the South Korean company posted a steep fall in quarterly profit, but said it thinks that the fall in memory chip prices may be bottoming out. American rival Western Digital, which also released its results last week, was also cautiously optimistic. Chief exec Steve Milligan said WD saw strong demand in hard drives and flash in 2019 and expects "accelerated recovery" in flash gross margins in the year ahead. Micron recently said it believes the worst is over.
Even the suits think things are looking up. Last month, Morgan Stanley raised its view on the overall semiconductor sector from cautious to in-line, writing that fundamentals were bottoming and that consensus estimates had moved - ostensibly meaning rich backers can start making money on it again.
Pipeline smoothing out, say analysts
In some cases a small upswing has already begun. Sales of memory bounced back 5.8 per cent to $26.8bn in Q3 last year, after a 24.6 per cent drop in Q1, according to data from the World Semiconductor Trade Statistics. During Q4, sales jumped again by 1.9 per cent to $27.3bn, a decent figure for a quarter that usually reports small drops. Samsung said that in Q4, its memory business began to see "solid market demand".
"The global market rebounded somewhat during the second half of 2019, increasing slightly from Q3 to Q4, and modest annual growth is projected for 2020," said John Neuffer, president and chief exec of SIA.
Michael Yang, a semiconductor specialist at IHS Markit, said the flash market started to recover in June last year after a 13-minute power outage at a chip plant in Yokkaichi, Japan, which supplies Toshiba (recently rebranded as Kioxia) and Western Digital, threw the flash market into chaos. The factory wasn't back up to full production until mid-July, causing a 24 per cent shortage in global flash supplies between August and October. Yang reckons that the outage fuelled the steady rise in flash prices over the next couple of quarters. TrendForce, an analyst which monitors spot and contract prices of DRAM and flash, said last month that towards the end of 2019, NAND flash prices had already bounced by more than 10 per cent after seven consecutive quarters of decline.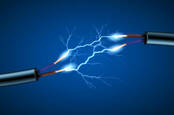 One teeensy little 13-minute power cut, and WD you look at the size of that chip supply cut!
READ MORE
For DRAM, Yang says that the recovery is happening now. "Customers feel that the market is no longer severely oversupplied," he said. He expects Q1 to show an overall trend of recovering compared to last quarter.
What's spurred the sudden upswing? That's got to do with the nature of the semiconductor business, reckons Malcom Penn, founder of Future Horizons. Like many other industries, the semiconductor market is cyclic, with booms following busts. Economists call this the "pork cycle" after the fluctuating price of bacon. When bacon prices are high, farmers breed more piglets. The piglets take time to grow into adult pigs that can be butchered and turned into bacon. If a large number of farmers follow this process at the same time, the market is suddenly oversupplied with a glut of bacon and prices dive. In response, farmers stop growing piglets, which, in turn, causes the next shortage of bacon, driving prices back up and causing farmers to start breeding piglets again. And so on.
The market for high-tech chips are just as cyclical as the market for bacon. When demand is high, chipmakers build high-tech factories that are expensive to build but cheap to run, as several big chipmakers did in 2017. Supply starts to catch up with demand. But even when it has caught up, chipmakers continue to produce – bloating their stockpiles and depreciating prices. When demand eventually catches up with supply, as it did late last year, stock levels are pulled down and prices start to stabilise.
The current upswing is in keeping with the cycle dynamic, Penn says. The years 2017 and 2018 experienced extraordinary growth, with prices rising for nine consecutive quarters and reaching the highest prices of all time. When prices started to drop in Q4 of 2018, chipmakers began ramping down production. Last year, three of the biggest chipmakers – Intel, Micron and SK Hynix – scaled back production of memory at their labs. From there it was only a matter of time before demand picked up again and the market balanced itself out.
"The market was overheating, it had to correct," he said. "That's how the cycle works – when you've had two solid years of above average growth, unless the average has changed, you've got to have two years of under-average growth to bring it back – that's just straightforward maths."
The most recent slump was amplified by outside factors, too. For a long time, the industry's cycles were dictated by the two or three-year life cycles of smartphones. But the smartphone market sagged last year as consumers held off upgrading their phones for longer. This was not helped by the fact that the operators of data centres, which are big chip buyers, cut down on their purchases last year. The US's trade war with China likely didn't help matters either.
How much improvement could we see?
Penn says it's very hard to imagine that the market will not recover by 10 per cent this year. But it may jump by as much as 15 per cent, he reckons. Analysts at IHS Markit are much less bullish – they expect prices to grow somewhere between 5.5 and 7 per cent, adding that, given the results they've seen in Q1, growth could even approach double digits. The company cites "pent up demand" for smartphones, as evidenced by Apple's recent record results, and increased demand from data centres. Last week, Amazon reported $9.95bn in net sales, with AWS accounting in the bulk of the company's operating income.
But Penn says that the future will not be determined by one killer application driving the market. "People always reference IoT or 5G but I think that's being superficial. The market is driven by the zillion of applications that are out there. There are always occasionally products that stand out – whether PC or smartphone. The whole silicon chip market is a myriad of applications – they go into everything. It is more affected by what's going on in the wider economy these days than what's going on in the smartphone market."
Many remain hesitant. In its outlook for the year ahead, Samsung cautiously added that even if "the macroeconomic and geopolitical concerns are showing signs of easing", it could not "rule out the possibility that the situation would deteriorate."
Other analysts back Samsung's prudence. "Samsung's conservative guidance is indicative of the uncertainty in 2020," said Geoff Blaber, vice president of research at CCS Insight. "Whilst demand for memory is picking up in multiple segments, prices are yet to follow volumes."
The coronavirus outbreak particularly threatens the semiconductor industry because so many of its factories are in based in China. The virus has already killed 200 and infected nearly 10,000 people worldwide. Stocks in several semiconductor companies slipped by 4-5 per cent last week after China banned travel in and out of Wuhan, a major manufacturing hub. In their financial results release, SK Hynix warned that the virus outbreak posed a threat to future chip production in their chip plant in the eastern Chinese city of Wuxi. Samsung said production at their chip factory in Xian has not been affected.
But from companies that usually downplay their forecasts, even mild optimism is a big deal, Penn opined. "Collectively the semiconductor companies are minded to say that the recovery is happening," he said. "That's rare – very rare in this day and age. For people in the industry to say it's looking OK, that means it's going to be amazingly OK." ®