This article is more than 1 year old
Shouldn't Uber freeze app accounts to prevent spread of coronavirus by drivers and fares? Oh, OK, it already is
Someone's not getting a five-star rating
Uber has temporarily suspended the accounts of two drivers and 240 users in Mexico, after both drivers carried a passenger that may have been infected with the coronavirus that has officially killed at least 426 people so far.
A user named Norma posted on Twitter an alert she had received from Uber that explained she could not currently take any trips using her account because she had shared the same vehicle as someone who may have caught the bio-nasty. Norma was then instructed to call an official hotline for more information about the novel coronavirus.
In a statement translated from Spanish, the ride-hailing app revealed it received news from Mexico's Secretariat of Health on the 31 January that one of its users was a "possible carrier of the coronavirus."
February 1, 2020
After the app maker realized the possibly sick passenger had entered not one but two of its drivers' cars, and that both drivers went on to pick up another 240 people, it decided to ban all affected accounts for the time being.
"We have proceeded to send information to these two drivers and the 240 users regarding the temporary deactivation of their accounts with the only objective of sharing the official preventive information of the Secretariat of Health," it said.
Norma appears to be one of the 240 users that have since been temporarily banned from Uber's service.
"We received a request from the Mexico City Health Department for information about an individual identified as a carrier of coronavirus," an Uber spokesperson confirmed in a statement to The Register.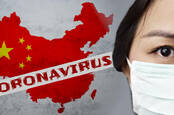 An Apple a day might not keep the doctor away: iGiant's China stores face closures, deep cleans, staff temperature checks amid virus outbreak
READ MORE
"Out of an abundance of caution, we temporarily suspended the accounts of two drivers who had transported the individual, as well as approximately 240 other users who had been in contact with those drivers. We directed them to contact the public health authorities for further information.
"We have a dedicated online portal for public health authorities to contact Uber for information about riders and drivers, and we will take action on any user accounts on the recommendation of those authorities."
Uber did not say how long the suspension would last, nor did it say if it had temporarily deactivated accounts of users or drivers in other countries.
The new coronavirus, 2019-nCoV, sprung from Wuhan, China, and has since infected people in more than 20 countries, including at least two cases in the United Kingdom and eleven in the United States.
In a bid to contain the outbreak, China has cut off all transport in and out of Wuhan and a number of neighboring cities. Meanwhile, the killer virus has dampened stock markets, and led to the suspension of DEF CON China and Huawei's developer conference scheduled to take place in Beijing and in Shenzhen. ®