This article is more than 1 year old
The winners and losers of infrastructure clouds revealed: AWS, Microsoft, Google and Alibaba get fatter
Can you smell the democratisation of IT? Neither can the shrinking 'others' section
AWS remains the biggest provider of infrastructure clouds with a revenue haul of $34.6bn in 2019 but for the first time it has pulled in less than double that of nearest rival Microsoft, which inhaled $18.1bn.
That's according to the latest figures from research company Canalys, which said worldwide cloud computing spending grew 37.6 per cent to US $107.1bn in 2019.
Google takes the prize for fastest growth, swelling by 87.8 per cent in 2019, albeit from a relatively low base, to $6.2bn. Microsoft was in second place growth-wise, up 63.98 per cent to $18.1bn; Alibaba grew 63.8 per cent to $5.2bn; and AWS grew 36 per cent to $34.6bn. Although AWS' market share slipped fractionally, from 32.7 per cent to 32.3 per cent, it still posted the biggest increase in absolute terms, $9.2bn versus Microsoft's $7.1bn.
All four giants made their gains at the expense of "Others", whose share of the pie shrank from 44.8 per cent to 40.1 per cent.
The figures for Q4 '19 paint a similar picture, with combined annual growth of 37.2 per cent, though Google's year-on-year growth for the three months was a mere 62.3 per cent, behind Alibaba's 71.1 per cent and Microsoft's 67.6 per cent but ahead of AWS, which grew 33.2 per cent.
Alibaba commanded a 5.4 per cent global market share in the fourth quarter, thanks to its strength in China and the Asia-Pacific region. Google Cloud amassed 6 per cent.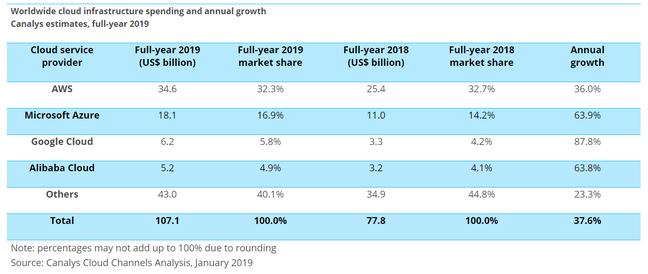 Growing global cloud spend in 2019 shows growth for all providers, with AWS rivals growing faster
Canalys attributes the growth of cloud to "analyse and interpret growing datasets", as well as DevOps requirements for new applications.
The researcher expects AWS to continue piling on the pounds following the launches of Outposts and Local Zones; Microsoft is credited with strong channel relations and enterprise accounts; and Google's progress is based on a larger internal enterprise salesforce and an improved network of resellers.
Canalys expects to see a further 32 per cent IaaS growth in 2020 to $141bn, rising in coming years to $284bn in 2024.
The cloud spend figures from Canalys are for infrastructure services, not productivity services like Office 365 or G Suite. These distinctions can blur, and some companies do not break out their figures in this way, making exact comparisons difficult.
Physical infrastructure to support cloud services is growing correspondingly, and the research team identifies "super seven cloud builders": Alibaba, Amazon, Baidu, Facebook, Google, Microsoft and Tencent, which in 2019 spent over $60bn between them on data centres, an increase of 8 per cent from 2018.
While there are no big surprises in the Canalys figures, Microsoft's achievement in growing Azure to more than half the revenue of AWS is notable. All the cloud giants can take some comfort from the figures – AWS for sustained growth and maintained market share, Microsoft for growing faster, and Google for showing that it cannot be counted out.
The big losers? "Others", down from 44.8 per cent share in 2018 to just 38.5 per cent in the last quarter, a trend that we can expect to continue as consolidation increases in the sector. ®