This article is more than 1 year old
Former Autonomy boss Mike Lynch 'submits himself' for arrest in central London
Extradition process around US fraud charges has kicked off
Ex-Autonomy boss Mike Lynch has submitted himself for arrest, a formality required as part of the extradition process initiated by the US Department of Justice.
Lynch handed himself in at Charing Cross police station in London this morning before facing a preliminary extradition hearing at Westminster Magistrates' Court relating to a request filed by American prosecutors last year, which Lynch is contesting.
He was released on £10m bail.
The arrest comes as Lynch awaits judgement in HPE's $5bn civil fraud case in the UK against him and Autonomy's chief financial officer, Sushovan Hussain, in London. The pair maintain their innocence.
HP bought Lynch-founded Autonomy, a maker of software to keep track of unstructured data, for $11bn back in 2011. But shortly after the buyout, HP had to write down the value of Autonomy by a whopping $8.8bn, saying that the Cambridge-based firm had fraudulently "misrepresented" its value.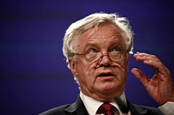 One-time Brexit Secretary David Davis demands Mike Lynch's extradition to US be halted
READ MORE
The extradition is connected to the criminal charges Lynch faces in the US, where he and Autonomy beancounter Stephen Chamberlain are looking at a maximum sentence of 25 years in prison. The 17 charges against the former CEO include conspiracy and wire fraud. Both men have denied all the allegations.
In January, ex-Cabinet minister David Davis urged the government to halt the extradition of Lynch until the conclusion of the UK trial, citing the US-UK Extradition Treaty of 2003 as a "truly dreadful deal" in Parliament.
In a statement this morning, Lynch's legal team said the arrest was a "formality" triggered by the American request to extradite him. "Since HP first raised these allegations more than seven years ago, Dr Lynch has steadfastly denied them and has worked hard to properly respond and set the record straight.
"Dr Lynch vigorously rejects all the allegations against him and is determined to continue to fight these charges." ®