Fed-up air safety bods ban A350 pilots from enjoying cockpit coffees
Spillages on electronic panels made engines shut down mid-flight
---
The mighty EU Aviation Safety Agency has issued a formal safety directive banning A350 airliner pilots from putting cups of coffee anywhere near sensitive cockpit electronics.
It appears that airline pilots simply can't help themselves when it comes to getting their caffeine fixes. The EU Aviation Safety Agency (EASA) has formally repeated earlier pleas from Airbus not to pour coffee over delicate control panels.
The EASA ban, confirmed yesterday, takes the form of a "liquid prohibited zone" inside the A350's cockpit and pragmatic "procedures to be followed in the case of inadvertent liquid spillage".
If pilots don't overcome their addiction to caffeine and stop spilling beverages over control panels, warned EASA, spillages could "lead to a dual engine [in flight shut down], possibly resulting in a forced landing with consequent damage to the aeroplane and injury to occupants".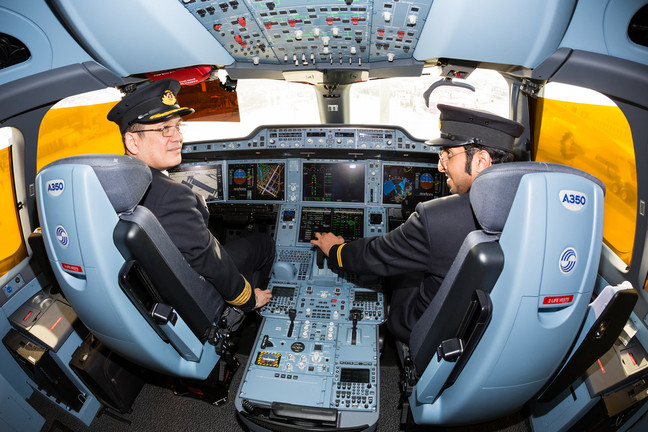 Liquids are banned from being anywhere near the centre console between the two pilots (Dmitry Birin / Shutterstock)
Aviation trade mag Flight Global reported that the cockpit coffee ban came about after two incidents where spilled liquids led to engines shutting down mid-flight "after inconsistent output" from control panels submerged under hot java. The magazine said: "Flight-recorder analysis indicated a high-pressure shut-off valve closure command."
One incident involved American airline Delta, while another is speculated to have been South Korean carrier Asiana. In the latter incident, tea was spilled on the console. Despite numerous attempts – as Flight Global put it, "the powerplant would not remain operational for any length of time" – the pilots couldn't get the dead engine running again and had to divert the flight.
The master engine switches in the A350's cockpit (immediately below the throttles held by the right-hand pilot in the picture above) are connected, via computer, to each engine's high-pressure fuel shut-off valve. Shorting the switch by pouring liquid over it appears to send a number of "engine on/engine off" commands in rapid succession.
Last year an A330 captain discovered, while over the middle of the Atlantic, that pouring hot coffee onto his aircraft's radios causes them to melt. ®