This article is more than 1 year old
Guess we have to do this the Huawei then: Verizon sued by Chinese giant for allegedly ripping off patented tech
So hard to pick a side when it's the Hannibal Lecter and Charles Manson of technology going toe to toe
Huawei and Verizon are squaring off in America over allegations of patent infringement and failed licensing deals.
On Thursday, Huawei sued Verizon in two plaintiff-friendly courts, accusing the cellular giant of ripping off patents it holds on voice and data mobile networks. The lawsuits were filed on the same day in the Texas Eastern [PDF] and Western [PDF] federal district courts. The patents in question are:
According to Huawei, the legal action is only being filed after it tried for years to get a license deal done with Verizon for what it believes are the results of valuable research work.
"We invest heavily in R&D because we want to provide our customers with the best possible telecommunications solutions. We share these innovations with the broader industry through license agreements," said Huawei chief legal officer Dr. Song Liuping.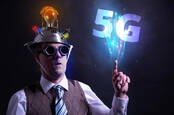 Vodafone CEO: We will elbow Chinese firm Huawei from our European core networks
READ MORE
"For years now we have successfully negotiated patent license agreements with many companies. Unfortunately, when no agreement can be reached, we have no choice but to seek a legal remedy."
To hear Verizon tell the story, however, the filing is anything but licensing business as usual. A brief but damning statement from the carrier accuses Huawei of lashing out against it and other US telcos.
"Huawei's lawsuit filed overnight, in the very early morning, is nothing more than a PR stunt. This lawsuit is a sneak attack on our company and the entire tech ecosystem," the statement reads.
"Huawei's real target is not Verizon; it is any country or company that defies it. The action lacks merit, and we look forward to vigorously defending ourselves."
Tough talk aside, it is most likely that the case will be settled well before it ever goes to trial, as the two sides are likely to eventually hammer out an agreement rather than fight it out in the courts. ®