This article is more than 1 year old
Microsoft reorg places Surface evangelist Panos Panay as boss of Windows too – report
Hardware and software under one roof: is Redmond embracing Apple's model?
An organisational reshuffle at Microsoft is to create a new Windows and Devices team under Panos Panay, currently chief product officer in charge of hardware including the Surface range.
Panay is the guy who presents new Surface devices at Microsoft press events as if each were a revolution in personal computing. He will now lead the Windows client as well, according to an internal memo from Panay reported by the ever-reliable Microsoft watcher Mary Jo Foley:
Personally I'm very excited to lead the Windows Client for Microsoft, which will help us streamline our decision-making processes, be clear on our priorities, and deliver the best end user experiences from silicon through operating systems across all Microsoft apps and service connected devices (OEMs and Surface). We believe this will make the Windows Client experience better for the entire PC ecosystem. Designing hardware and software together will enable us to do a better job on our long term Windows bets (dual screen, silicon diversity, connectivity, app platform, etc.) and having a single point of Windows Client Experience leadership driving consistent priorities and resourcing across all of Windows client will help all of us accelerate innovation and improve execution.
This is a significant change for the company, not so much because of Panay himself, but because it unifies Windows hardware and software under a single team, more of an Apple-like approach. Microsoft is relatively new to the PC hardware business, which started with the launch of the ill-fated Surface RT in October 2012. The move was presented as an effort to stimulate design innovation in PC hardware, especially in the context of Windows 8 and its radical new user interface, and the company insisted that it was not departing from its philosophy of leaving the hardware business mainly to partners.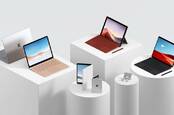 The OS is 'no longer' important to Microsoft, and yet new Surface kit has 3 Windows flavours
READ MORE
Surface has since grown to become a multibillion-dollar business. Microsoft does not break out the figures but in its latest financials reported Surface revenue up 6 per cent as part of $13.2bn quarterly revenue for "more personal computing", which includes Windows client, Surface and Xbox. Last October, Microsoft talked of new Surface form factors including the dual-screen Surface Neo (running Windows 10X) and Surface Duo (running Android).
Panay will continue to report to Rajesh Jha, exec veep of Experiences and Devices. Joe Belfiore, who currently leads the Windows Experience team, will move to lead the Office Experience Group along with Ales Holecek, currently in charge of the Office engineering team.
Other reported changes include the retirement of Brian MacDonald, in charge of Microsoft Teams, which will now be Jeff Teper's responsibility alongside SharePoint and OneDrive. Kirk Koenigsbauer, in charge of Microsoft 365, is to be Jha's chief operating officer.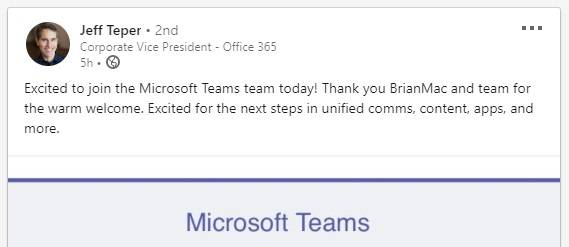 Jeff Teper takes on the Teams team
Microsoft's OEM chums may be uneasy about Surface taking an increasing share of PC sales. That said, over the past seven years the Surface initiative seems to have been successful in improving the design of PC hardware, as well as enabling Microsoft to deliver specialist hardware like the Surface Hub for conferencing, which integrates with features in Windows 10 and Teams.
Panay's initial challenge will be to make a success of the Surface Neo and Duo. These devices have the potential to return a little slice of the mobile hardware market to Microsoft, but face several obstacles – including uncertainty over the demand for dual-screen hardware and the difficulty of persuading application developers to adapt their software for these form factors. ®