This article is more than 1 year old
Should I stay or should I go now? Mobile industry braces for an MWC overshadowed by coronavirus misery
Less than 3 weeks till Barcelona tech show and some are staying away
MWC As the 2019 coronavirus tears a path across China and beyond, mobile device makers are reconsidering whether it's worth attending this year's Mobile World Congress (MWC) that opens in less than 20 days in Barcelona, Spain.
Already, LG has dropped out entirely, promising to unveil its upcoming mobile line-up at separate events away from the throngs of MWC, which measured nearly 110,000 attendees last year. ZTE has also scaled back its presence, cancelling a press conference, although it is still planning to exhibit.
"The ZTE Devices Press conference scheduled on February 25, which is just one of multiple planned activities, was cancelled. A wide variety of new 5G devices will be demonstrated at the ZTE booth during MWC 2020 as planned," the company told us in a statement.
The Register spoke to other major mobile vendors to discern their plans. TCL declined to comment. Other vendors, notably Samsung, Vivo, and Nokia, have yet to make an official statement. If we hear back from them, we'll update this post.
The silent treatment is unsurprising. The novel coronavirus epidemic is a rapidly evolving crisis: the death toll in China was at 490 yesterday, according to the country's National Health Commission, with 24,324 infected people on the mainland. The bio nasty has spready to 25 countries. One can understand why many vendors are reticent to commit to a plan when they cannot be certain whether planes will still be running between China and Europe, or if the virus will begin to abate.
There are, of course, exceptions. In a statement issued to The Register, an OPPO representative said it would be business as usual, and their plans will not be derailed by the novel coronavirus.
"OPPO is proceeding with MWC as planned, taking all precautions to ensure the safety of its staff, media and partners," the comapny said.
Huawei similarly has no plans to withdraw, and is currently thinking of ways to mitigate against disruption. This may include relying on Europe-based staffers (Huawei has 12,000 employees in Europe), or potentially flying Chinese staff to Spain early, and asking them to self-quarantine.
One Huawei representative told The Register: "We are right at the point of figuring it out, it is still 16 or 17 days away and the business is right now at the decision point."
No one at Huawei has been identified as having the novel coronavirus, the company said.
Separately, a spokesperson for Honor, a semi-autonomous sub-brand of Huawei, says that it will participate in MWC as planned. "[The] Honor press conference is on track for February 24. Nothing is changing at our end."
Others were less bullish. Speaking to The Register, a Xiaomi representative said its plans remain to be reconfirmed, and it's eyeing the situation. As a precaution, the mobile giant has cancelled its scheduled junket for Chinese media, who will instead have to cover the event remotely, or make their own travel plans.
Product rollouts and launches
Earlier this week, analyst Canalys predicted the novel coronavirus will complicate product launches, which, at least in the mobile sphere, tend to be on or around MWC. This, it warns, promises to hamper the global rollout of 5G.
"Vendors' planned product launches will be cancelled or delayed, given that large public events are not allowed in China. The public and media focus is on coronavirus developments, and technology vendors are likely to stall marketing activities as they are unlikely to divert attention to new product launches, such as 5G devices," it said.
"Previously planned large overseas launch events will likely to be suspended or reduced in size given the travel bans and restrictions imposed by various countries. It will take time for vendors to change their product launch roadmaps in China, which is likely to dampen 5G shipments in 2020."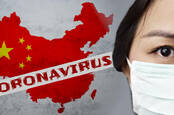 An Apple a day might not keep the doctor away: iGiant's China stores face closures, deep cleans, staff temperature checks amid virus outbreak
READ MORE
It is apparent manufacturers are taking measures to ensure supply chains remain uncompromised from the bug. Hon Hai Precision Industry, best known by its trading name, Foxconn, has began isolating factory workers in order to ensure they can continue producing iPhones once the extended Lunar New Year break concludes.
And, ironically, the US-China trade war may work in favour of the manufacturers, who have shifted some production overseas in order to avoid the punishing tariffs imposed by Donald Trump's administration.
"In terms of the real impact [to manufacturing], it all depends on the length of time this goes on," said Canalys chief analyst Alistair Edwards.
"If it's prolonged, of course the impact will be significant across the industry. But while production capacity may be limited, it's also worth pointing out that the impact of the US tariffs over the last 12 months has meant many vendors have shifted supply chains (at least in part) to mitigate the additional levies." ®