This article is more than 1 year old
HPE's orders to expert accountant in Autonomy trial revealed
Even then he said there was no need to break out hardware sales
Autonomy trial HPE instructed its accounting expert to assume that Autonomy was knowingly engaged in transactions to falsely inflate its accounts, according to court documents seen by The Register.
Expert witness Peter Holgate was given a set of working assumptions by HPE for most of the transactions he analysed for the Autonomy trial.
The expert accountant's detailed reports for the High Court, seen by The Register, revealed the full depth of the assumptions HPE's legal team instructed him to make when assessing Autonomy's accounts.
Nonetheless, even Holgate concluded that Autonomy did not have to separate out its hardware sales in its published accounts. One of HPE's main claims against Autonomy is that the British software firm hid the extent of its hardware sales while pretending to be a pure-play software company.
Holgate said in his first report for HPE: "I have concluded that there was no freestanding obligation to disclose hardware sales in the interim or quarterly reports."
Holgate's expert opinion was used by HPE to back up its assertions that former Autonomy executives Mike Lynch and Sushovan Hussain fraudulently pumped up its revenues to make it a more attractive buyout prospect.
While Holgate's evidence on its own is not conclusive one way or the other – although he is an expert whose brief is to help the court, he is one witness among many – the working assumptions given to him from HPE shed more light on how the American megacorp approached its marathon High Court case against Lynch and Hussain.
Learning the language of business
As we reported in our last look at the expert accounting testimony, HPE's High Court case centres on categories of disputed transactions that Autonomy made between 2009 and 2011. Those categories are:
Resellers
Reciprocal
Hosting
"Other"
HPE is leading its case by highlighting around 40 transactions from all of these categories which it said showed deliberate wrongdoing. However, many of the assumptions HPE instructed Holgate to make appeared to have been devised so the only opinion he could express is that most of the sales were indeed dodgy.
In a table presented in his report, Holgate said Autonomy's pure hardware sales accounted for 11 per cent of the company's reported growth for 2009 and 6 per cent in 2010. In Q3 2011, Autonomy was bought by HPE.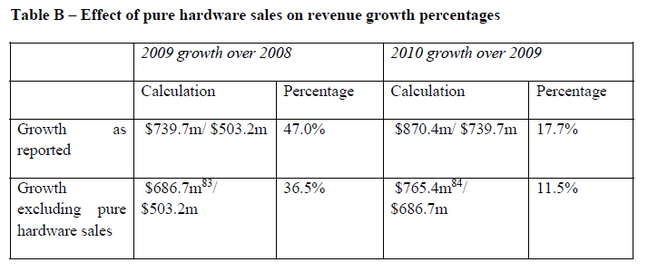 Table of Autonomy revenues and hardware sales prepared by Peter Holgate for the High Court
"In reporting the 2009 figures, the difference between 36.5 per cent growth and 47.0 per cent growth is highly significant in understanding the performance of Autonomy," he wrote. From Holgate's table, it appears that hardware was increasingly the driver of Autonomy's growth in the runup to its buyout by HP.
Assumption, the mother of all...
Holgate was instructed to make 13 "general assumptions" when he looked at the reseller (referred to in court as value-added resellers, VARs) transactions HPE claimed were dodgy. Key among these was the instruction that he was to assume "there was an agreement or understanding… between the Autonomy group company and the VAR [reseller], to the effect that the VAR would not be required to satisfy any liability to Autonomy from its own resources".
In other words, Holgate was told to assume Autonomy would always pay its side of the deal first. Just to hammer this point home, the accounting expert was also instructed that Autonomy told its resellers not to "provide any added value, or any service, to the end-user" themselves. This implied HPE thought Autonomy was carrying out the entire sale and post-sale customer support in-house – but was falsely funnelling these deals through its resellers.
Another assumption Holgate was instructed to use by HPE was that Autonomy was buying "rights, goods or services that [it] did not need… but which had the purpose and effect of putting the VAR in funds which it then used to pay for the Autonomy software licence".
Why would Autonomy do such a thing? Holgate spelled it out: "A possible answer is that Autonomy gave a margin or [Marketing Assistance Fee] to the VAR as the price of trying (but failing, in my view) to justify revenue recognition that could not otherwise occur or earlier revenue recognition than would have arisen from a sale direct to the end-user."
Holgate duly found that, based on these assumptions and others, 26 of the 37 reseller sales HPE argued were dodgy were indeed dodgy.
Alright, that's enough
Later Reg articles in this mini-series will look equally closely at the reports of Mike Lynch's accounting expert, Gervase MacGregor.
The Autonomy trial has concluded, though the court may be recalled for some final judicial questioning before judgment. El Reg expects judgment to be handed down by May ahead of trial judge Mr Justice Hildyard's next case starting, although some have said this is a very ambitious timescale for such a lengthy and complex case.
With the US Department of Justice starting extradition proceedings to force Lynch out of the UK and into the hands of American prosecutors, there is a possibility that the entire High Court proceedings may become what lawyers call a "moot point" – or, as you and I might say, "irrelevant". ®