This article is more than 1 year old
Xerox ups bid in hostile takeover of HP Ink to more than $36.5bn
Rifles down back of sofa, finds extra $3bn for shareholders
The mini saga that is Xerox's effort to financially charm the pants off HP Inc shareholders has taken a new twist – the copier biz is upping its bid to more than $36.5bn.
Xerox confirmed to The Register today that it will raise the offer to $24 per share, higher than the previously tabled $22, on or around 2 March 2020. This is comprised of $18.40 in greenbacks and 0.149 Xerox shares for each HP share.
Talks between the pair began in August and were made public in November. HP has so far rejected multiple advances, saying the price undervalued its business and that it has concerns about Xerox's revenue trajectory and the resulting debts on its balance sheet.
In turn, the copier business launched a 30-odd-page presentation to convince HP shareholders that a tie-up is the right thing to do; launched a hostile takeover by directly approaching big HP shareholders; and is trying to elbow away up to 11 of HP's current board members to have its own nominated directors elected.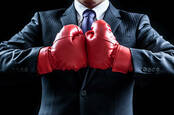 Icahn and I will force a Xerox and HP wedding: Corporate raider urges HP shareholders to tell board to act 'NOW'
READ MORE
Today Xerox said it had met, "in some cases multiple times", with a load of HP's chunkiest stockholders.
"These stockholders consistently state that they want the enhanced returns, improved growth prospects and best-in-class human capital that will result from a combination of Xerox and HP. The tender offer announced today will enable these stockholders accept Xerox's compelling offer despite HP's consistent refusal to pursue the opportunity.
"Xerox's offer provides HP stockholders with both significant, immediate cash value, and meaningful upside via equity ownership in the combined company. The headline offer price of $24 per share represents a 41 per cent premium to HPs unaffected 30-day volume weighted average."
Then, of course, Xerox added, who can forget about the lovely synergies that may be realised should the two cuddle up, as outlined in the December presentation to HP investors: $2bn of run-rate cost synergies that will include job cuts, supplier consolidation, etc, etc.
The increased terms might mean Xerox has overcome one hurdle – the main one – but HP will still want clarity on why Xerox's sales decreased from $10.2bn to $9.2bn (on a trailing 12-month basis) since 2018. In the year ended 31 December 2019 (PDF), Xerox reported sales of $9.066bn versus $9.662bn in the prior year. It lopped off $869m in expenses to $2.108bn, leaving it with a slight pre-tax profit of $822m, up from $549m.
Similarly, Xerox has financial commitments from investment banks to fund part of the buy, but HP will want reassurance about the repayment obligations.
HP CEO Enrique Lores has only been in the chair since 1 November – though he has been with HP for more than 20 years – and believes he has the right strategy to grow the business after a fiscal '19 that fell flat.
The Register has asked HP to comment. ®