In a high-security preview, we got our claws on Samsung's Galaxy S20 and S20+... which are annoyingly good
Three cameras, two models – and someone at Sammy likes SD cards
The long-awaited – and highly leaked – Samsung Galaxy S20, S20 Plus, and S20 Ultra flagship phones are finally here along with official glimpses of the folding Galaxy Z.
Question is: is the S20 series any good?
Last month, your humble vulture jumped on a train to London to attend a Samsung pre-briefing, where, with a sticker placed firmly on his phone's camera, he got his hands on the latest mobes from the South Korean giant.
Perhaps what's most striking is how unlike an iterative development they feel. Although there's a passing resemblance when viewed face-first, the next-gen Galaxy feels like a measurable leap forward.
The standard issue S20 has a 6.2-inch 120Hz dynamic AMOLED screen, while the S20+ stretches that to 6.7-inch. Both boast QHD resolution, as well as a 240Hz touch sensor, which should improve responsivity, particularly in competitive multiplayer gaming environments. Bezels are slightly smaller than the previous model, while the front-facing selfie camera is somewhat shrunk, while retaining its wide-angle credentials.
Both handsets adopt similar camera arrays, with a 64MP main shooter, augmented with 12MP ultra-wide and 12MP wide-angle lenses, and are capable of 30x zoom. The plus version also comes with a depth sensor, for better bokeh-filled images.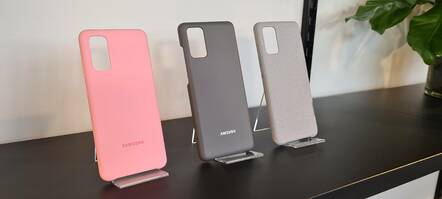 S20 camera sample (click to enlarge)
The Samsung Galaxy S20 never failed to impress during our brief hands-on, producing bright and detailed shots, with excellent colour fidelity. It also shares the same "single take mode" feature as its larger brethren, the Samsung Galaxy S20 Ultra 5G, allowing you to capture multiple shots and videos with just one tap. This lets you select the ones you like, while discarding the rest.
Samsung has, for the most part, completely overhauled the camera app, introducing a new video pro mode that allows the user to control aperture and exposure settings while shooting video. It's also overhauled the framework that produces steady, gimbal-quality video while walking.
Although UK punters can get a version of the S20 with just a 4G radio, both models come with 5G baked-in, which supports all the current major standards. On the software side, it comes with Google's Android 10 and flagging Duo messaging service baked in, allowing users to make free video calls from within the standard dialler app.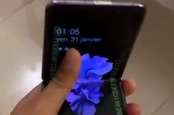 Flipping heck: Footage leaks of Samsung's upcoming bendy smartphone in action
READ MORE
Another new software feature is Galaxy Music Share, which lets other users control the playback on the phone, which is ideal for party situations where one handset is connected to a speaker system.
Both handsets come with a 7nm Exynos processor. The standard S20 model comes with either 8GB or 12B of RAM, while the S20+ has just one option: 12GB.
In terms of storage, the S20 comes with 128GB of flash storage, while the S20+ offers punters the choice between 128GB and 512GB. Whatever you pick, you can later choose to extend it with an SD card of up to 1TB. The S20 packs a standard 4,000mAh battery, while the larger S20+ includes a more capacious 4,500mAh cell. The South Korean giant is yet to announce battery life performance figures yet. I'd be curious to see how it holds up, particularly with their beefy, 120Hz screens.
Both phones hit the shelves from March 6. The S20 5G is priced from $999, and the S20+ 5G from $1,199. ®