This article is more than 1 year old
S20 Ultra 5G: Samsung unfurls Galaxy flagship with bonkers 108MP cam, 6.9-inch display
If you tell my hand, my achy-breaky hand, it might fling up and hit the fan
What even is a flagship mobe these days? In the past few years, punters have been blessed with a bevy of top-notch blowers from firms like OnePlus, Xiaomi and Honor that cost less than £500. In 2020, what's the point of spending more than a grand on a phone?
Enter the Samsung Galaxy S20 Ultra 5G. Formally announced today at Samsung Unpacked but largely leaked in the weeks preceding, this Android 10 handset promises a photography experience that will rival any mirrorless camera. And, to see whether it delivers on the promise, we got our dirty talons on an early model.
The first thing you'll notice is that it's big. Really big. It comes with a 6.9-inch 120Hz QHD Dynamic AMOLED edge-to-edge display. This packs a tiny hole-punch containing the 40MP wide-angle selfie camera and a 240Hz touch sensor.
It requires an expansive grip, with a width of 76mm, a height of 166.9mm, 8.8mm thickness and weighing 220g. Despite that, it didn't feel especially unwieldy to carry, fitting snugly into the rear pocket of this hack's jeans.
The display accoutrements probably won't be much use to the typical commuter who spends their mornings staring bleary-eyed into apps. However, for those ensnared by the current crop of increasingly sophisticated mobile games, like Fortnite and PUBG Mobile, the Samsung S20 Ultra 5G promises a more enriching and responsive experience. The 240Hz touch sensor should, at least in theory, reduce the latency between tapping the screen and shooting some n00b in the face.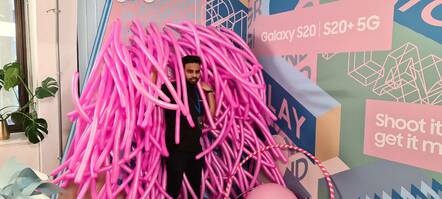 Photo taken with the S20 Ultra 5G (click to enlarge)
Of course, the big hitter on this handset is the camera. The primary sensor is a custom 108MP affair. Most high-megapixel phones use a technique called "pixel binning" to improve low-light performance, which sees four smaller pixels combined into a single larger one. The S20 Ultra 5G is no exception, albeit it uses nona-binning, which amalgamates nine pixels into one pixel, ultimately producing a 12MP picture. Previously, if you wanted to bin your nona, you had to drive to the local care home. Oh how times have changed.
The other standout feature of the S20 Ultra 5G is its 100x zoom, which comes mounted on the side of the camera apparatus. While this, prima facie, sounds really cool, it's a bit of a white elephant. You can only get so much optical zoom from a smartphone, leaving software to pick up the heavy lifting. Predictably, any totally zoomed-in pictures are fairly flat and lack detail.
But while the 100x zoom feels a bit like a party trick, you can still capture pretty decent shots with more reasonable zoom levels, without feeling as though you've lost too much fidelity.
Arguably the coolest camera feature – which is present on both the S20/S20 Plus and S20 Ultra 5G – is "single take mode", which allows you to move around the subject while automatically capturing a small portfolio of video clips and snapshots. This is a one-tap process, with Samsung's AI doing much of the hard work.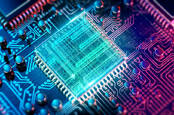 RISC-V Xmas gifts: SiFive emits vector-enabled cores, Western Digital teases new SweRVs, VxWorks hugs ISA, Samsung rolls it into 5G...
READ MORE
Under the hood, it packs a 7nm process octa-core Exynos platform, backed up with 12/16GB of RAM and 128/512GB of storage. Punters are best advised to go for the latter option, given the S20 Ultra 5G can shoot natively at 8K resolutions. As you might expect, 8K UHD videos tend to be quite taxing on storage.
Fortunately, the S20 Ultra 5G comes loaded with a MicroSD slot, which supports cards of up to 1TB in size. On the battery front, it has a fairly generous 5,000mAh cell. It also supports both non-standalone (NSA) and cat-6 5G standards.
Samsung claims the S20 Ultra 5G will go on sale in March, from $1,399. ®
PS: Samsung also teased its bendy Galaxy Z flip-phone, which we've covered previously. It'll cost $1,380, and is due to land Friday, February 14, as expected.