Sprint-T-Mobile US merger: Bad for competition? Good for standing up to Verizon, AT&T? NYC court goes with the latter
Judge approves $26bn deal, individual states not quite so happy
A federal district judge in New York City has approved the $26bn merger of telecom rivals Sprint and T-Mobile US, eliciting enthusiasm from company executives and investors.
Nonetheless, there's one more regulatory hurdle to overcome and resistance from the coalition of state attorneys general opposing the deal remains unresolved.
"Today was a huge victory for this merger … and now we are FINALLY able to focus on the last steps to get this merger done!" said John Legere, CEO of T-Mobile US, in a statement. "We want to thank the Court for its thorough review of the facts we presented in our case."
"Judge [Victor] Marrero's decision validates our view that this merger is in the best interests of the US economy and American consumers," said Sprint executive chairman Marcelo Claure in a statement. "Today brings us a big step closer to creating a combined company that will provide nationwide 5G, lower costs, and a high-performing network that will invigorate competition to the benefit of all mobile wireless and in-home broadband consumers."
Before the deal can actually close, however, the two companies still need the approval of the California Public Utilities Commission (CPUC), which has until July 2020 to vote – and that deadline could be extended.
The CPUC Public Advocates Office, an independent entity within the CPUC charged with looking after the interests of state utility customers, has said, "The proposed merger lacks specific, measurable, and verifiable California benefits and would cause irreparable damage to competition in the wireless market and the low-income consumer market."
Judge Marrero in his decision said he was not convinced the merged companies "would pursue anticompetitive behavior that, soon after the merger, directly or indirectly, will yield higher prices or lower quality for wireless telecommunications services..."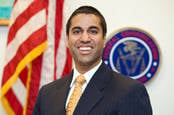 Your mobile network broke the law by selling location data and may be fined millions... or maybe not, shrugs FCC
READ MORE
The court ruling caps the third attempt to unite T-Mobile US and Sprint, announced in April 2018 and challenged in June 2019 by a group of state attorneys general, one month before US Justice Department approved the arrangement. The US Federal Communications Commission gave the deal a green light in November 2019.
Assistant Attorney General Makan Delrahim of the Justice Department's Antitrust Division in a statement expressed approval for the decision. "This opinion is an important next step toward strengthening competition for high-quality 5G networks that will benefit American consumers nationwide," said Delrahim.
Despite the New York court ruling, the coalition 14 state attorneys general maintains that reducing the number of national wireless carriers from four to three will hurt consumers by reducing competition.
New York Attorney General Letitia James in a statement raised the possibility of appealing the decision.
"There is no doubt that reducing the mobile market from four to three will be bad for consumers, bad for workers, and bad for innovation, which is why the states stepped up and led this lawsuit," said James.
"We disagree with this decision wholeheartedly, and will continue to fight the kind of consumer-harming megamergers our antitrust laws were designed to prevent."
In a statement, California State Attorney General Xavier Becerra voiced similar dissatisfaction with the deal.
"Our fight to oppose this merger sends a strong message: even in the face of powerful opposition, we won't hesitate to stand up for consumers who deserve choice and fair prices," said Becerra.
"We'll stand on the side of competition over megamergers, every time. And our coalition is prepared to fight as long as necessary to protect innovation and competitive costs." ®