Fake docs rock real docs: Ex-Wall St guy accused of conning medics out of £27m for bogus cryptocurrency fund using faked paperwork
He spent the dosh on himself rather than invest it as promised, prosecutors claim
Prosecutors have charged a man with wire fraud and money laundering after he allegedly raked in £27m ($35m) from a cryptocurrency scheme that largely targeted doctors.
Michael Ackerman, 50, of Sheffield Lake, Ohio – who spent 16 years on Wall Street as a trader – was hit with the two criminal charges, as well as lawsuits from the US Securities and Exchange Commission [PDF] and Commodity Futures Trading Commission [PDF] on the allegations he defrauded investors while running cryptocurrency investment operations.
According to the filings, all in a New York City federal district court, Ackerman ran three different companies, all under the name Q3, that took around 150 investors, many of them physicians, for tens of millions of dollars in what were pitched as cryptocurrency investments. The idea being, you pay money into the fund, it's spent by fund managers on buying and selling crypto-coins, and you collect your return at the end on the difference. Ackerman allegedly claimed to have invented a trading algorithm that exploited online currency price fluctuations to turn a profit, and ran the operation from June 2017 to November 2019.
To do this, Ackerman allegedly created a series of fake or doctored financial reports and used other sleight-of-hand tricks that appeared to show his investment fund had amassed a massive portfolio of cryptocurrency holdings and trading profits that were returning big profits.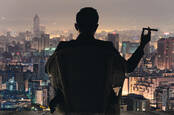 Robbing-some Caruso and pal lived life of luxury using victims' millions in crypto-Ponzi scam, say prosecutors
READ MORE
"Allegedly touting monthly returns of over 15 per cent, Michael Ackerman was able to raise over $35m in investments for his fake cryptocurrency scheme," US Attorney Geoffrey Berman said.
"He allegedly falsified documents representing to investors that his fund had a balance of over $315m [£243m] worth of cryptocurrencies, when in actuality, he had less than half a million dollars."
Armed with the puffed up numbers, Ackerman and his two co-founders (one of whom was a surgeon) were said to have gone to investors, most of whom were other medical professionals connected via Facebook groups or professional relationships, and raised $35m worth of what they said was money that would go directly into the investment fund.
In reality, only a fraction of that was actually spent on cryptocurrency investments, the prosecution claims, and the rest was pocketed by Ackerman and paid out to the co-founders. When investors began to ask for their money to be cashed out, it is claimed Ackerman's companies simply took money paid in by other investors and handed it out in order to keep the fraudulent operation going.
Neither of the co-founders, it should be noted, are listed as a defendant in the filings, and they say Ackerman lied to them as well. If convicted on the two criminal counts, he faces a maximum of 20 years in prison. ®