This article is more than 1 year old
Microsoft and Oracle, sitting in a cloud... in-ter-ope-ra-bi-li-ty: Friends-with-benefits deal is working out nicely for both
I'll show you my customers if you show me yours
Oracle has continued its attempt to gain ground on cloud rivals by expanding its data centres and extending last year's love-in with Microsoft.
The latter has seen Big Red and Redmond join hands – or, rather, fiber-optic cables – in Amsterdam today as a broadening of the pair's cloud interoperability partnership. Previously, the pair hooked up Oracle's Ashburn (North America) bit barn with Azure US East so customers happy with their apps on Azure could stash their data in Oracle's Autonomous Database (running on Exadata infrastructure).
Corporate bods with cloud money to spend have fallen over themselves signing up for Microsoft services of late, pulling the Windows giant closer to Amazon Web Services. Things have been less rosy for Oracle, which managed just three per cent growth in cloud services and licence support for Q2 Fiscal 2020 [PDF], with $6.8bn in revenues compared to $6.6bn for the same quarter a year earlier.
Microsoft would like nothing more than to pick up some of those juicy Oracle corporate customers, so it has quite a bit to gain from the deal. For Oracle, it plugs a gap in the database goliath's lineup. Having both environments talking makes for an easier cloud migration for customers running a combination of on-premises workloads.
As with the existing US connection, an enterprise can build workloads that interoperate between Microsoft's Azure and Oracle Cloud regions within the European Union data jurisdiction. The duo have also integrated identity and access management, saving customers from dealing with multiple passwords when splayed over the two cloudy environments.
Manufacturing boffins MESTEC were at this week's Oracle OpenWorld shindig in London to tell everyone how wonderful it all was. Shunting the .NET code to Azure was relatively straightforward, according to a rep, and then hooking up the application tier to Oracle Autonomous Database yielded some impressive performance increases.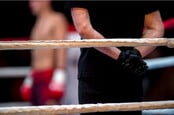 In the red corner, Big Red, and in the blue corner... the rest of the tech industry
READ MORE
One can't help but wonder if those Oracle customers running their apps on Azure might be tempted to the not-red side. For now, if you don't mind paying for both services, it seems a neat solution to a problem that would traditionally yield disappointing latency and administration hassle.
The pair aren't done yet – more connections are planned in Europe, Asia, the west coast of the USA, and a US Government specific region.
Holding hands and singing songs with Microsoft aside, Oracle also used its London gathering to unveil its own cloudy growth. Five new cloud regions went live in early February (in Australia, Canada, Japan, Netherlands and Saudi Arabia) bringing the number of Gen 2 Cloud regions live to 21.
The aim is 36 Gen 2 cloud regions available to customers by the end of 2020 with a minimum of two regions for every country Oracle operates in. An impressive-sounding goal, but the tech giant still has some way to go if it is to overtake the market leaders. ®