This article is more than 1 year old
Startup Mycroft AI declares it will fight 'patent troll' tooth and nail after its Linux voice-assistant attracts lawsuit
OK Google, a little help here?
Updated An AI startup is battling a patent-infringement lawsuit filed against it for building an open-source Linux-based voice-controlled assistant.
Mycroft AI first learned trouble was brewing when it was contacted by a lawyer at Tumey LLP, a Texas law firm focused on intellectual property, in December. In an email to the startup's CEO Joshua Montgomery, the legal eagle claimed Mycroft AI's technology infringed two US patents – 9,794,348 and 10,491,679 – belonging to Tumey's client, Voice Tech Corp.
Voice Tech's patents described a system for handling "voice commands from a mobile device to remotely access and control a computer." Mycroft AI develops voice-assistant software that runs on Linux systems, including Raspberry Pis and its own standalone Mark I and II gadgets, and responds to spoken requests, such as setting alarms and reminders, searching the web, and so on. You can add more features by installing add-ons called skills.
The lawyer offered Mycroft AI a non-exclusive license of Voice Tech's patents, we're told. After Montgomery ignored the emails, Voice Tech sued Mycroft AI [PDF] in January for patent infringement, seeking damages in the notoriously patent-friendly US federal district court in eastern Texas.
Voice Tech Corp, incorporated in Texas in November 2018, we note, claimed Mycroft AI's Mark I and II gizmos ripped off its designs. The '348 patent was submitted to patent clerks in 2007 by Todd R. Smith, granted a decade later in 2017, and assigned to Voice Tech Corp in 2019. The other patent is a variant of the '348 patent, filed in 2017 by Voice Tech Corp, and granted in November 2019. Mycroft AI appears to be the first outfit to be sued by Voice Tech regarding the two blueprints. The address given for Voice Tech Corp in its court paperwork is a bungalow in Tyler, Texas.
This is a textbook case of why the US patent system is fundamentally broken
This month, Montgomery declared he's ready to fight this lawsuit all the way. "This is a textbook case of why the US patent system is fundamentally broken," he told The Register on Tuesday this week. "Software is math running on a microchip. Sure, it's written in a particular language and that is copyrightable, but math is not patentable."
Voice Tech's patents, according to their abstract, involve "receiving audio data from [a] mobile device at the computer. The audio data is decoded into a command. A software program that the command was provided for is determined. At least one process is executed at the computer in response to the command. Output data is generated at the computer in response to executing at least one process at the computer. The output data is transmitted to the mobile device."
Montgomery argued the patents do not reflect the complexity and architecture of modern assistants, and pointed out Mycroft AI doesn't even involve a separate mobile device. The audio sample is received by whatever computer or gizmo is running the software, it is processed locally and/or in the cloud, and responds by performing actions locally or remotely as needed. The Voice Tech patents specifically describe a mobile device sending an audio clip to a separate computer.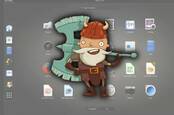 Hell hath GNOME fury: Linux desktop org swings ax at patent troll's infringement claim
READ MORE
Although Mycroft AI is based in Missouri, and doesn't have a presence in Texas, it was sued in the patent-holder-friendly corner of the Lone Star State. Mycroft AI has to, therefore, spend money hiring a law firm in Texas to work with its attorney in another part of the country. The goal, seemingly, is to encourage the startup to settle.
"It doesn't matter if you're right or wrong, cases like these just depend on if you have enough money to win," Montgomery told us. "Most companies often don't have enough money to fight these cases so it makes sense to pay them regardless if you haven't actually infringed upon the patents."
Mycroft AI, which was founded in 2015, will also attempt to get Voice Tech Corp's patents invalidated. "Their patents shouldn't have been granted in the first place," Montgomery told us. "[Patent] examiners only spend a few hours on each application so they can only search for a limited quantity of prior art. There are other similar existing patents and products that incorporate [Voice Tech Corp's] technology before its patents were even issued."
Montgomery described Voice Tech, in his opinion, as a "patent troll," and compared such organizations to playground bullies. "If you don't stand up the first time, you'll get picked on forever," he told us.
Tumey LLP did not respond to requests for comment on behalf of its client. ®
Updated to add
Surprise, surprise, Voice Tech has dropped its litigation.