Cisco: We warned months ago our sales would be a bit glum, we did not disappoint, and don't expect changes soon. PS: We axed Cisco Live Oz
The aristocrats! The aristocrats!
---
As feared, Cisco saw its sales slip slightly from last quarter as customers held off on buying new network and comms gear.
For the second quarter of Switchzilla's fiscal 2020, which ended January 25:
Revenues of $12bn were down four per cent from $12.4bn in Q2 2019. The returns were in line with the dip Cisco had forecast, and slightly better than the $11.98bn analysts had predicted.
Net income of $2.9bn marked a two per cent increase over the year-ago quarter as Switchzilla still managed to eke out a profit.
Non-GAAP earnings per share of $0.77 edged out analyst predictions of $0.76 per share.
Infrastructure platforms revenues were $6.5bn, down eight per cent from the year-ago quarter.
Applications revenue was $1.35bn, also down eight per cent.
Security was the lone winner this quarter, as revenues of $748m were a nine per cent improvement from Q2 FY2019.
Revenues in the Americas were down five per cent, while EMEA was down three per cent and APJC revenue fell by one per cent.
The outlook for Cisco's third quarter is similarly steady-as-she-hopefully-goes, as Switchzilla predicts revenues will be down between 1.5 and 3.5 per cent from last year. Nevertheless, CEO Chuck Robbins put on a brave face and told Wall St analysts on a conference call customers would be back any day now.
"The good news is, once this economic uncertainty passes we expect to see spending recover," Robbins predicted. "I firmly believe we have a tremendous opportunity ahead of us."
Cisco Live called off due to health fears
Unfortunately for Cisco, there will not be a Pacific region conference to look forward to this year, as the networking giant has had to cancel its Cisco Live Melbourne event, scheduled for March 3-6.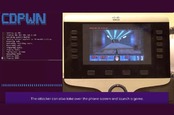 'Tens of millions' of Cisco devices vulnerable to CDPwn flaws: Network segmentation blown apart by security bugs
READ MORE
Though the conference itself was to be held in Australia, the number of potential attendees from China and Southeast Asia meant the event would draw heavily from areas hit by the deadly novel coronavirus outbreak. As such, it's probably a good idea to keep folks apart and prevent the bio-nasty's spread.
"This was a very difficult decision and not one that we took lightly. Cisco Live Melbourne is an incredibly important event for us as it provides a valuable opportunity for our executives to spend time with you and share details about our strategy, technologies and innovation, as well as the impact we are having on the communities we operate in," Cisco told attendees.
"However, our number one priority is ensuring the safety of all attendees and we strongly believe this is the right decision given the current circumstances."
Cisco Live is the second tech conference to be cancelled this week, just hours after it was announced the mobile industry mega-fest MWC Barcelona would not be taking place this year.
Cisco shares were down more than four per cent in after-hours trading to below $47.80 a piece. ®