Microsoft finally flinched last night and acquiesced to the demands of Fast Ring Windows Insiders with a fresh Windows 10 build that at long last contained some new toys.
Build 19564 has brought with it some new graphics settings and a refreshed inbox calendar application. Sadly, the inbox email application remains just as iffy as ever (certainly when compared to the free incarnations of Outlook that the gang are pushing onto mobile users.)
The team has also tweaked the graphics performance preference settings to add a list of apps from where a user lucky enough to be possessed of some extra GPU chippery can select the preferred silicon for their app. The list and GPU preference are pre-populated on a "best effort" basis.
Sadly, we have only "Intel UHD Graphics 620" in our GPU options, and "glacial" is not listed as a performance selection.
More eye-catching is the refreshed calendar, which arrives with 30 themes, a better month view and a simpler way of adding events. The annoyingly wide account pane has also been collapsed to an icon list, leaving more space for viewing the delights of the day.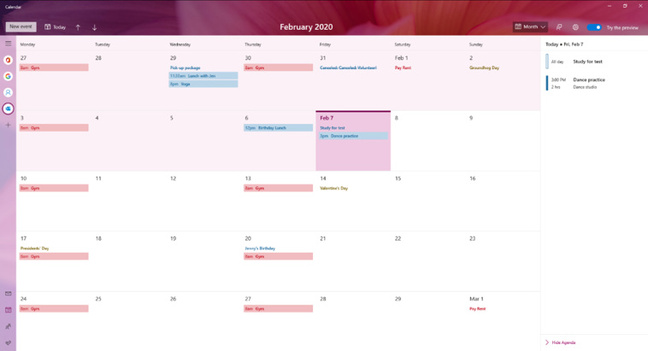 Purple Calendar: the b-side nobody asked for
While the preview can be turned off, it's a handy improvement for those that have either not downloaded an alternative or gone fully online yet.
As this is a Fast Ring build, there is no word on if the new toys will ever see the light of day outside of the Windows Insider world. Microsoft's latest attempt to make the Windows Insider program ever more byzantine means that there is no longer a planned ship date for the toys inflicted on Fast Ringers.
The build also includes a fix for the connection error some Insiders (us included) were experiencing when trying to fire up Windows Subsystem for Linux (WSL) 2.
The gang has also fixed a number of other issues, including one that stopped Insiders updating, the death of input after a sneaky look at the clipboard history and Green Screen of Death errors accompanied by the dramatic-sounding CRITICAL_PROCESS_DIED error.
Finally, as if to truly ram home the point that this is preview code and liable to expel vomit through the screen at any point, the team has also "fixed an issue that could result in a deadlock (where everything would freeze) when using your PC."
Fixing Windows freezing? Whatever will they think of next? ®