Roses are red, IBM is Big Blue. It's out of RSA Conference after coronavirus review: IBMers will not attend infosec event over 'health concerns'
Who will join the IT giant in staying away from San Francisco?
Updated IBM has pulled out of annual security shindig RSA Conference, due to be held in San Francisco at the end of this month, to avoid its staff catching the novel coronavirus that's spreading worldwide.
"The health of IBMers continues to be our primary concern as we monitor upcoming events and travel relative to Novel Coronavirus (COVID-19)," Big Blue told The Register in a statement in the past hour.
"As a result, we are cancelling our participation in this year's RSA taking place February 24 - 28 in San Francisco."
This is the first major exhibitor to pull out of the show, one of the largest of its kind in the world with an estimated 45,000 attendees. The novel coronavirus has so far, according to official numbers from Beijing, infected more than 64,400 people, and killed at least 1,300, including three people outside of China.
RSA Conference organizers earlier said nine companies based in the Middle Kingdom – the epicenter of the deadly virus – were planning to attend the event, though six had dropped out due to travel restrictions put in place by the Chinese government to contain the bio-nasty. Meanwhile, 83 per cent of attendees are based in the United States, we're told, meaning most people attending won't be from areas severely hit by the virus.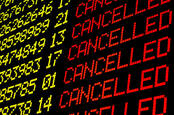 Mobile World Congress now none of those things as 2020 industry megashow axed over coronavirus fears
READ MORE
Nevertheless, this has got to be a major blow for the infosec bash's bosses, coming about a week before the doors open.
IBM is a platinum sponsor of the RSA Conference, and now other suppliers will be taking the long US weekend to consider whether they are going to turn up, too. It's feared events with thousands of people arriving from around the globe, such as RSA Conference, may put attendees at risk, and hasten the epidemic's spread.
This week saw the cancellation of MWC Barcelona, again to minimize the spread of the coronavirus. LG had pulled out of the conference, triggering a domino effect that led to a flood of big-name exhibitors refusing to attend. Cisco also cancelled its Live conference in Melbourne, Australia, over virus fears, and Black Hat Asia and DEF CON Asia have both been put on hold.
Among other events pulling the plug over the coronavirus, Facebook has just cancelled its annual global marketing confab in San Francisco.
The RSA Conference organizers had no comment at time of going to press. ®
Updated to add
"We learned today that IBM has made the decision to no longer participate in RSA Conference 2020 as a Platinum Sponsor," the organizers said today. "We understand and respect their decision. RSA Conference is still planning to proceed as scheduled."