Steve Jobs, executives shot down top Apple engineers' plea to design their own server CPU – latest twist in legal battle over chip upstart Nuvia
Techies quit to go it alone, iGiant tries to lure away their staff – then sues – court told
Apple's iPhone chip designers mulled creating their own homegrown server processor for the Silicon Valley giant – but were shot down by Steve Jobs after they presented the idea at an internal meeting.
In the following years, Apple executives continued to refuse to give the project the green light, arguing the iGiant is a consumer-focused biz and has no interest in designing microprocessors for data centers.
One of the engineers championing the server effort, Gerard Williams, the chief architect of the iPad and iPhone's custom high-performance CPUs, eventually quit to form Nuvia – a startup designing data-center-grade processors for cloud giants and hyperscalers.
And within months, Apple sued Williams, alleging he breached his contract by co-founding Nuvia while still working at the Cupertino goliath, drawing upon his work in steering the iPhone microprocessor design, and luring away staff for his new venture. Williams denies any wrongdoing.
Incredibly, in the weeks before Apple took its ex-chief architect to court, the multi-billion-dollar behemoth privately told Nuvia to stop recruiting engineers from its ranks of techies, yet behind the scenes, the iPhone giant was trying to hire one of the startup's top designers.
This is all according to paperwork [PDF] filed this week by Nuvia in a Santa Clara Superior Court, hitting back at Apple's lawsuit brought against Williams in August 2019.
Attorneys for the upstart said that not only did its co-founder wait until after leaving Apple to start his new venture, but he did so after nearly a decade of trying to convince execs in Cupertino to take up the server microprocessor project themselves. And, after being snubbed for nearly a decade, Williams quit to design such a thing, only to be sued by Apple, which previously showed no interest in the project.
The Nuvia team said that back in 2010, Williams and fellow semiconductor industry guru Jim Keller wanted to design Apple's very own data-center CPUs, even going to so far as to pitch then-CEO Steve Jobs on the idea.
"In 2010, Williams and [co-worker Jim] Keller raised this idea with Mike Culbert, their former supervisor at Apple. Culbert suggested that they put together a presentation for Steve Jobs, pitching the idea of Apple building a server chip. Williams and Keller did so, and Culbert presented that opportunity to Jobs," the court filing reads.
"Following the meeting, Culbert reported to Williams that Apple would not be pursuing the server chip project because Jobs was only interested in pursuing Apple's development of consumer-based products."
Following Jobs' death in 2011, Apple management continued to put the brakes on Williams and Keller's plan, we're told.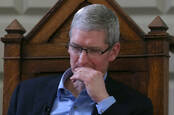 Apple sues iPhone CPU design ace after he quits to run data-center chip upstart Nuvia
READ MORE
This filing comes as part of the ongoing legal wranglings between Apple and Williams over his departure and decision last year to start Nuvia, along with chip experts from the likes of Google, AMD, Intel, Broadcom, and so on. Apple claims Williams did so in breach of his Apple employment contract, and then further broke that agreement by trying to poach other Apple employees. Those allegations prompted this latest filing, as Nuvia argues Apple had no interest in their tech until Williams was well clear of the iGiant.
Williams' team said any engineer who left Apple to join Nuvia did so legally and in accordance with their contracts. In fact, the Nuvia co-founder said it was Apple that was trying to poach away Nuvia engineers, not the other way around.
"On information and belief, in June 2019, [Apple VP Sribalan] Santhanam contacted (Nuvia investor Amarjit) Gill, regarding NuVia's recruiting efforts," the filing claimed. "At a meeting that followed, Santhanam warned Gill that consequences would result if Nuvia continued hiring Apple employees. During this same time period, however, Apple attempted to recruit NuVia employees ... to join Apple."
Apple and Nuvia had no comment on the filing.
Finally, we note that Williams oversaw the development of the Arm-compatible industry-rattling A-series of system-on-chips for Apple's iThings, and that Nuvia is committed to designing Arm-compatible server processors for hyperscalers, such as Google, Microsoft, Baidu, and so on. With the Arm ISA in Williams' blood, you might imagine well the architecture he pitched for Apple's own server gear – the machines used to power things like iCloud, the iTunes and App Store, and so on. ®