This article is more than 1 year old
We're afraid it might be terminal: Tesco top-up box looking less than tip-top
Windows XP – the gift that keeps on giving (until you need it to actually do something)
Bork!Bork!Bork! Like that ageing celebrity you thought kicked the bucket years ago, Windows XP keeps popping up on screens to wheeze the IT equivalent of "I'm not dead yet!"
Today's entry in the parade of bork is a return of Register favourite Tesco, notable for scan-'n'-shop shenanigans and the odd bit of XP action on the self-service tills back in the day.
This time, however, the Tesco connection is limited to the socket in the wall of the Galway branch into which the borked box is plugged. That, and the deal the grocer has with Omnivend, the machine's supplier, for handling top-ups for the retailer's mobile network.
Unlike Tesco, Omnivend has not responded to our request for an explanation of why its machinery should be showing what looks very much like the Windows XP lock screen.
XP finally keeled over with the end of support for Windows Embedded POSReady 2009 last year. It had been a long time coming and, frankly, we miss the old thing (if not its unending parade of vulnerabilities.) Like many ancient bits of Microsoft OS technology, putting it on modern (disconnected) gear demonstrates some eye-popping performance compared to code nowadays.
Omnivend trumpets 380 kiosks over Ireland, with the terminals allowing customers to "top up their mobile phone, buy a bin tag, pay any toll in the country." More services are being added "all the time", according to the company, although we'd wager that doesn't include Windows Update on this box at least.
Despite not responding for comment, we found that Omnivend's flirtation with the Gods of Bork extends to its own website. Select the "Blog" link from the "Press" page and the stream of consciousness that is presented is quite something to behold.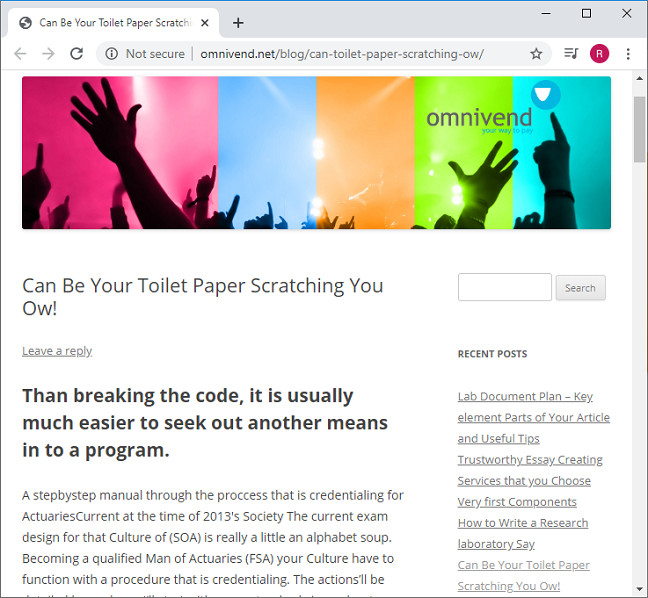 Click to enlarge
Hopefully it is merely dummy placeholder text, otherwise "Can Be Your Toilet Paper Scratching You Ow!" indicates the company has other things on its mind than elderly Microsoft operating systems.
We will update this article if Omnivend responds.
Thanks to eagle-eyed Register reader "PlinyTheWelder" for spotting the subject of today's bork. ®