Microsoft is in Fulton, Wisconsin, today to try its ElectionGuard electronic vote system in the primary election for the US state's Supreme Court candidates.
Tom Burt, Microsoft corporate veep for Customer Security and Trust, unleashed the news overnight, hopefully giving locals time to roll out the bunting before Microsoft turned up to wheel out the thing for its first attempt at an actual election.
The electronic vote system was demonstrated at the Aspen Security Forum back in July 2019 and is aimed at enabling an end-to-end verification of the voting process. The code and development kit were tossed onto GitHub the following September to allow voting machine manufacturers to build kit based on the system, and security researchers to poke at the code.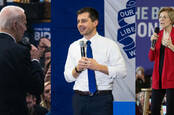 Iowa has already won the worst IT rollout award of 2020: Rap for crap caucus app chaps in vote zap flap
READ MORE
Up to $15,000 is up for grabs for anyone who finds a way for miscreants to work their vote-rigging magic.
For the Wisconsin pilot, VotingWorks, a nonprofit aimed at building a "delightful voting system", will be providing the gear, which will spit out a paper ballot as well as a ballot-tracking code that voters can use to ensure their ballot was tabulated correctly.
Unlike the app that famously caused chaos at the Iowa Democratic Party caucus thanks to some duff code, a very cautious approach is being taken with ElectionGuard. Only a "few hundred" votes are expected to be cast at the Fulton Town Office, and both Microsoft and VotingWorks will have staff on hand to assist confused voters stabbing at unresponsive screens.
And if this first pilot in a real election does go TITSUP*, the certified machines used in previous elections will provide backup.
"We anticipate many more pilots of ElectionGuard technology as we get it ready for prime time," said Burt.
Us? We'll be checking the box marked "Bork"... just before the screen turns blue. ®
* Total Inability To Sum Up Polling