This article is more than 1 year old
Assange lawyer: Trump offered WikiLeaker a pardon in exchange for denying Russia hacked Democrats' email
America wanted a cover-up of Kremlin ties to DNC intrusion, court told
Julian Assange was offered a pardon by the White House only if he publicly said Russia did not hack the Democratic National Committee, according to the WikiLeaks supremo's lawyer.
The bombshell came on Wednesday in Westminster Magistrates' Court amid Assange's attempt to block his extradition from the UK to the US – where he faces charges of conspiracy to commit computer intrusion. Assange appeared in the central London court via video link from prison.
According to multiple reports quoting Assange's lawyers, the super-leaker's legal team was prepared to show evidence and testimony that former Republican congressman Dana Rohrabacher (R-CA) visited Assange back in 2017 at the Ecuadorian embassy in the British capital, and made the offer: deny Russia was involved in obtaining the emails from DNC servers, and the Trump administration would provide a "pardon or some other way out" of criminal charges in America.
In a statement to the White House press corps, Press Secretary Stephanie Grisham denied that there was any quid pro quo offered to Assange:
The President barely knows Dana Rohrabacher other than he's an ex-congressman. He's never spoken to him on this subject or almost any subject. It is is a complete fabrication and a total lie. This is probably another never ending hoax and total lie from the DNC.
Bear in mind, the president often claims to not know someone he has in the past known well.
The court declaration is a stunning about-face for Assange and WikiLeaks, which have to this point vehemently denied any coordination between its public release of the stolen DNC emails and the Russian government or its agents, which American intelligence said was behind the hack. Both Assange himself and backers of WikiLeaks were quick to attack journalists who suggested such ties existed.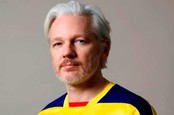 Judge to interview Assange over claims Spanish security firm snooped on him during Ecuador embassy stint
READ MORE
It has long been suspected that Kremlin hackers, blamed for the 2016 DNC hack, sent the pilfered documents to Assange, who posted them to his info-sharing website. The emails were credited with helping to turn public opinion in key US states against Democratic candidate Hillary Clinton and allow Trump to claim an upset victory in the Presidential election.
Subsequent probes concluded that Russia did hack the DNC to help Trump, but investigators stopped short of declaring that campaign officials were aware of the assistance and colluded with the effort, something Trump has seized on multiple times throughout his presidency.
These latest Assange claims, if true, would severely undercut that position, and show that Trump and his allies were still trying to act on Russia's behalf and cover up the actions of Putin's cyber-soldiers in the aftermath of the election.
If extradited to the States, Assange faces 18 charges that could see him spend the rest of his life behind bars. ®