This article is more than 1 year old
Going Dutch: The Bakker Elkhuizen UltraBoard 950 Wireless... because looks aren't everything
A comfortable, pleasant non-mechanical keyboard
Review Keyboards are essential so it's no surprise people are particular about the ones they use. And though mechanical keyboards command the majority of the mouth-foaming geek lust, there's still a home for the humble scissor-switch, as demonstrated by the delightfully functional Bakker Elkhuizen UltraBoard 950 Wireless.
Functional but unattractive, this keyboard is deliberately Mennonite with its wallpaper-paste-coloured keys and chunky buttons. If flickering multicoloured LED lights set your heart aflutter and your computer wouldn't look out of place at an e-sports tournament, this ain't for you.
But as your mum once told me, looks aren't everything. If you cast aside the utilitarian aesthetic, you stumble upon a really decent keyboard.
The keyboard is compact enough to fit on a small countertop or surface (if you occasionally use your kitchen as an ad-hoc standing desk, like I do), without feeling especially compromised. It's also small enough to chuck in a laptop bag, if you're travelling somewhere and want to cart your setup with you.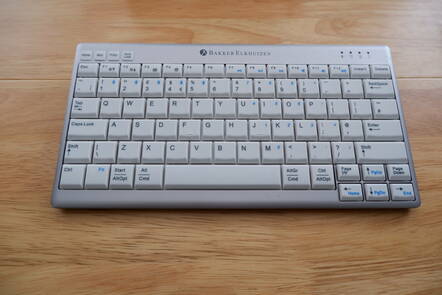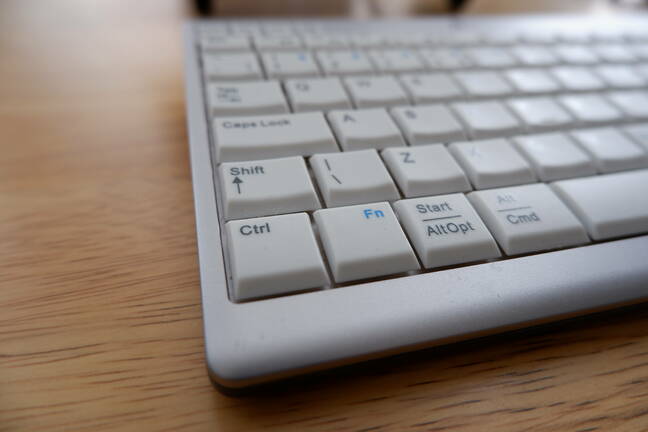 Clickety-clickety ... to enlarge either pic
The keys are large and well spaced, making touch-typing feel intuitive, while there's a decent amount of audio feedback without annoying your co-workers/partners/dogs, as would otherwise be the case with a Cherry Blue-switch equipped mechanical keyboard.
Key presses are deep. To bottom out, you have to apply a decent amount of actuation force, making every keypress feel deliberate and precise. Compared to shallower keyboards, like the loathed Apple Butterfly variety, the number of accidental keypresses is almost negligible.
To boot, there are a number of hotkey buttons, allowing you to take screenshots and open your preferred mail app with ease. These are clicky and hard, and don't feel cheap at all.
The Bakker Elkhuizen UltraBoard 950 connects over Bluetooth and charges over Micro USB, with a battery life that lasts – at least in my experience – weeks between charges. Pairing was straightforward, with the keyboard working almost immediately once connected to my MacBook Air.
You can also change between macOS and Windows layouts with the press of hotkey. Pressing Fn + W in tandem gives you the Windows layout, while Fn + A switches the keyboard to the macOS format.
It's worth noting that this keyboard lacks a numpad. This isn't a concern for me, but if you work in the financial sector, or regularly crunch numbers, you might want to look elsewhere.
That said, the lack of backlighting is a bit of a bummer, particularly given my propensity for burning the midnight oil.
It's also a shame that Bakker Elkhuizen UltraBoard 950 uses Micro USB when the far-superior USB-C has been a thing for some time and is already being used by some peripheral manufacturers, most notably Logitech and Fnatic.
But despite those whinges, it really is a solid keyboard, and one I wouldn't hesitate to recommend. If you're tempted, you can grab it online for under £90. ®