iFixit has gone all Spanish inquisition on the Samsung Galaxy Z Flip, taking a sharp scalpel to the pricey foldable's innards and posting the pics online. What did it find? Not heresy, but somewhat of a mixed bag when it comes to repairability.
The Samsung Galaxy Z Flip scored marginally better than the nouveau Motorola Razr, which earned a dismal score of one. Still, the teardown gurus were eager to criticise Samsung's liberal application of adhesive, which makes the most trivial of repairs needlessly complicated.
It also didn't have many kind words to say about Samsung's cable placement, which adds a veneer of unnecessary peril when it comes to simple maintenance tasks. This is particularly pertinent, given that iFixit feels many of the phone's components will eventually require repairs and replacements over the standard mobile life cycle.
That's hardly a surprise. Solid-state devices (like your bog-standard candybar phone) are far more resilient than those with moving parts, which are liable to suffer mechanical failure.
Between melting glue and dissecting circuit boards, iFixit also found room to slam Samsung's vaunted dust-sweeping technology, which is designed to remove harmful debris from the hinge. This failed to handle a stress test that mimics the effect of submerging the Galaxy Z Fold in sand, which is a real risk when you take your phone to the beach.
Not only did it fail to remove the debris from the hinge, which caused it to make a painful cracking sound when unfurled, dust also managed to make its way into the wireless charging coil.
iFixit was also damning about the phone's display, which has proven inadequate in previous stress tests. Although it does come with a very thin layer of foldable glass, this is coated in a polymer layer that attracts scratches and dints at a prodigious rate. It gave the display a very scientific rating of "meh".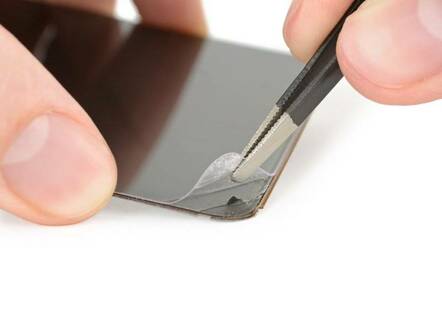 Click to enlarge
In total, the Samsung Galaxy Z Flip fetched a repairability rating of two. For context, it gave the iPhone 11 Max Pro a rating of six. Ten is the highest possible score.
Foldable phones inevitably come with compromises. Price is one factor, and as we've observed from previous teardowns, so too is repairability. Until the tech matures, at this point, it's buyer beware. ®