This article is more than 1 year old
Ring in the changes: Mandatory two-factor authentication, login alerts, targeted ads opt-out after punters voice privacy gripes
Smart-home kit slinger does the right thing... under commercial duress
Ring will make two-factor authentication mandatory for all its customers, forcing them to enter a six-digit code before they can access their accounts, the Amazon-owned outfit announced on Tuesday.
The move comes after miscreants discovered they could force their way into people's Ring smart-home devices to yell at kids, and spy on families, typically by credential stuffing or guessing passwords by brute force. Credential stuffing exploits the fact people all too often reuse the same username and password on many sites. If you use the same username and password combination to log into Ring and some other website, and that site gets hacked, those login credentials could fall into the hands of miscreants, who them use the login details to access your Ring account.
Two-factor authentication goes a long way to stop that – but you should also not reuse passwords.
The security overhaul also follows a number of other controversies, including the sale of users' personal data to marketing companies, and a program in which cops were given access to shared footage from Ring's ubiquitous video doorbells. Its own staff were also caught peeping at people's videos.
"While we already offered two-factor authentication to customers, starting today we're making a second layer of verification mandatory for all users when they log into their Ring accounts," it announced. "This added authentication helps prevent unauthorized users from gaining access to your Ring account, even if they have your username and password."
In addition, the manufacturer said it would "pause the use of most third-party analytics services in the Ring apps and website" while it updated its privacy "control center" to allow users to opt-out of sharing personal information.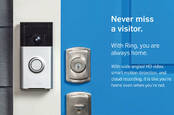 Ding-dong. Who's there? Any marketing outfit willing to pay: Not content with giving cops access to doorbell cams, Ring also touts personal info
READ MORE
That control center was just recently improved... and dismissed as a "cosmetic redesign" without any real controls. It will soon be a real control panel, according to Ring, with an opt-out for "personalized advertising," although it still "believes personalized advertising can deliver a better customer experience."
The actions are a rare example of a dominant tech corp responding to privacy fears in a, at least, semi-meaningful way. Putting a temporary stop of sharing at least some information until new controls are in place is an unusually proactive measure for a tech company. That doesn't mean, however, that in future Ring won't follow the well-worn path of companies like Facebook and Google by adding so many different options – hidden within app settings – that it ends up confusing the end-user to the point where they end up providing large amounts of personal data regardless.
Ring has also highlighted other useful security features, including login notifications that alert users when someone has logged into their account from a new device or browser – thus tipping folks off that a miscreant's broken into a gadget – and "user groups," where multiple people can access the same account though with different logins.
Although the smart-home market has taken off, punters remain nervous about the idea of always-on internet-connected home security cameras, especially if there is a risk it is not entirely secure.
Ring is battling with a number of competitors, including Google-owned Nest, and this time it appears competition and public exposure is having the desired effect and forcing the Amazon-owned business to put its users ahead of advertisers. We'll see how long it lasts. ®