Fire Brigades Union warns of wonky IT causing dangerous delays in 999 control rooms
In some of UK's worst flood-hit areas
IT failures in emergency fire control rooms are creating dangerous delays, the Fire Brigades Union (FBU) has warned.
The North West Fire Control Service and the East Coast & Hertfordshire Control Room Consortium (ECC) are experiencing ongoing issues with their mobilisation systems, according to the British union.
Failures of mobilisation systems – which display the type of incident, location and resources needed to tackle it – can significantly slow how quickly fire crews can respond to emergencies.
The ECC, which uses Capita's Vision 4 system, has recorded more than 4,000 slowdowns and failures in its mobilisation system since they went online in November 2017. The group's system's dropped out for 90 minutes on January 27 and experienced freezing screens and disconnections during Storm Denis last weekend.
The North West Fire Control Service, which uses Hexagon's i/Dispatcher software, has been experiencing similar issues since June 2018, said the FBU. Its systems went down for 15 hours on February 1, forcing staff to take notes by pen and paper, the union added.
Another glitch, which occurred some time in the last six months, caused an eight minute delay to firefighters responding to an incident.
IT systems have been an issue for emergency services recently. Just last week, Computer Business Review reported that a four-hour IT system outage at London Fire Brigade's emergency control room, which also uses Capita's software, forced officers to take notes using pen and paper and patch calls to local fire stations manually.
Surrey Fire and Rescue Service (SFRS), which also uses Capita software, experienced similar issues earlier this year after it merged with West Sussex's fire service. Failures with the mobilisation system meant that brigades on the mainland were being sent out to incidents on the Isle of Wight because they could not recognise the English Channel.
SFRS admitted to some "teething" issues, but denied claims the IT system was causing delays in its response times.
Capita, which provides software for 65 per cent of the UK's fire and rescue services, declined to comment on this piece.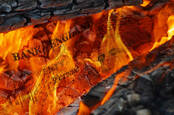 UK government buys off Serco lawsuit with £10m bung. Whew. Now Capita can start running fire and rescue
READ MORE
Following the latest outages, the FBU warned the two fire control rooms of five issues that need to be addressed urgently:
Failures in the mobilising system to document and record addresses, requiring staff to log off and on again before mobilising resources
The mobilising system slows down to "unusable" levels during incidents on motorways
Attempts to issue resource proposals are met with frozen white-out screens
Risk-critical information is not properly communicated to control staff, such as whether the occupier is a hoarder, whether there has been a firearms risk, whether there is a risk of violence to crews
Failure to send critical emails including arson threat referrals and accident/injury report forms due to a migration to a new Microsoft Outlook server
Lynda Rowan-O'Neil of the FBU Control Staff national committee, said: "We've repeatedly warned that these IT failings are dangerous, but have been ignored. Our control rooms are desperately understaffed and conditions have become completely untenable.
"We cannot keep allowing outdated, malfunctioning IT systems to delay emergency response. It's no secret that, in an emergency, a matter of seconds could be the difference between life and death. These failings could genuinely endanger lives."
North West Coast Fire Control, which covers 5.5 million people across Cheshire, Cumbira, Lancashire and Greater Manchester, denied that it took an average of eight minutes to respond to an emergency situation.
A spokesperson said: "North West Fire Control acknowledges the Fire Brigades Union's concerns and will continue to work with them, and all representative bodies, to ensure any issues raised are addressed."
The ECC is made up of four county fire services: Hertfordshire was the first to join in November 2017; Humberside joined in November 2019; Norfolk joined in the last couple of weeks; and Lincolnshire is due to go live today. Technical issues have jumped since Humberside joined last year.
All four fire services refuted the FBU's criticism.
Darryl Keen, chief fire officer at Hertfordshire Fire Services, said: "The system includes a collaboration arrangement with three other Services in Lincolnshire, Norfolk and Humberside which means that calls for any of the services can be effectively handled in all four Services during exceptionally busy periods such as storms – this effectively provides four times the capacity for Hertfordshire than in our previous arrangements."
A Humberside Fire Control Room spokesperson said: "Officers from Humberside Fire and Rescue Service have met with local FBU officials and provided the assurances that they required in relation to the arrangements in place, this has included additional staff in the Control Room for the project transition period and additional 24/7 IT support."
Tim Joyce, area manager for Lincolnshire Fire and Rescue, said: "We haven't been affected by any IT issues during the recent storms and we have mobilised crews as normal to incidents."
A Norfolk Fire and Rescue Service spokesperson said: "None of these issues highlighted by the FBU are actually affecting Norfolk, we continue to have confidence in our new system." ®