This article is more than 1 year old
What do a Lenovo touch pad, an HP camera and Dell Wi-Fi have in common? They'll swallow any old firmware, legit or saddled with malware
Are we doing panic about software updates again? Really? OK
Some of the biggest names in the technology world still ship hardware that can be possibly hijacked by well-placed miscreants, thanks to poor or non-existent checks for firmware updates.
Eclypsium said on Monday that, despite years of warnings from experts – and examples of rare in-the-wild attacks, such as the NSA's hard drive implant – devices continue to accept unsigned firmware. The team highlighted the TouchPad and TrackPoint components in Lenovo laptops, HP Wide Vision FHD computer cameras, and the Wi-Fi adapter in Dell XPS notebooks.
The infosec biz said a miscreant able to alter the firmware on a system – such as by intercepting or vandalizing firmware downloads, or meddling with a device using malware or as a rogue user – can do so to insert backdoors and spyware undetected, due to the lack of cryptographic checks and validations of the low-level software. And, while the vulnerable devices themselves may not be particularly valuable to a hacker, they can serve as a foothold for getting into other systems on the network.
That's a lot of caveats, we know. And while exploitation of these weaknesses is few and far between, limited to highly targeted attacks, it's still annoying to see these holes in this day and age.
"Eclypsium found unsigned firmware in Wi-Fi adapters, USB hubs, trackpads, and cameras used in computers from Lenovo, Dell, HP and other major manufacturers," the firm explained. "We then demonstrated a successful attack on a server via a network interface card with unsigned firmware used by each of the big three server manufacturers."
Perhaps most frustrating is that these sort of shortcomings have been known of for years, and have yet to be cleaned up. The Eclypsium team contacted Qualcomm and Microsoft regarding the Dell adapter – Qualcomm makes the chipset, Microsoft's operating system provides signature checks – and encountered a certain amount of buck-passing.
"Qualcomm responded that their chipset is subordinate to the processor, and that the software running on the CPU is expected to take responsibility for validating firmware," Eclypsium reports.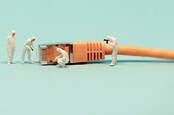 Hundreds of millions of Broadcom-based cable modems at risk of remote hijacking, eggheads fear
READ MORE
"They [Qualcomm] stated that there was no plan to add signature verification for these chips. However, Microsoft responded that it was up to the device vendor to verify firmware that is loaded into the device."
Meanwhile, manufacturers complain doing signature verification of firmware code is tricky in embedded systems and other low-end or resource-constrained gadgets. While PCs and servers have plenty of room to check updates, fitting that cryptographic tech onto normal gear is not so simple, it is claimed.
"The report addresses a well-known, industry-wide challenge stemming from most peripheral devices having limited storage and/or computational capabilities," Lenovo said in a statement to The Register.
"Lenovo devices perform on-peripheral device firmware signature validation where technically possible. Lenovo is actively encouraging its suppliers to implement the same approach and is working closely with them to help address the issue."
Dell says it was aware of the report and was "working with our suppliers to understand impact and will communicate any necessary security updates or mitigations as they become available."
HP added: "HP constantly monitors the security landscape and we value the work of Eclypsium and others to help identify new potential threats. We have published recommended mitigations for their latest report here. We advise customers to only install firmware updates from hp.com and the Microsoft Windows Update service, and to always avoid untrusted sources." ®