This article is more than 1 year old
How's this for a crossover? Scumbag scammed victims with fake gem mines – then pivoted to fake crypto-mines
Not the sort of 'digital transformation' you want to be part of
A bloke has copped to operating a £115m ($149m) scam that managed to encompass physical mining of gems and the virtual mining of cryptocoins.
Steve Chen, 62, will plead guilty to conspiracy to commit wire fraud and tax evasion. A formal plea hearing is scheduled for March 10, and after that, Chen faces up to 10 years behind bars.
Chen, who also went by the aliases "Li Chen" and "Boss," will admit to running a pair of operations that, from 2013 to 2015, conned more than 70,000 people out of what they thought were investments in gem mining and digital currency.
"Mr Chen lured victim investors around the globe by creating a mirage made of fashionable cryptocurrency features and dynamic marketing tactics," said Paul Delacourt, assistant director of the FBI's Los Angeles field office.
"The investing public should be aware that cryptocurrency schemes are more prevalent and more sophisticated than ever, but those who perpetrate them use the same tactics as con-artists always have - by convincing investors to risk their money in the bank based on false promises of imminent wealth."
In the first phase of the scam, prosecutors say, Chen set up a company called US Fine Investment Arts, Inc that he pitched as a multi-level marketing operation that funded made-up gemstone mines in the US, Dominican Republic, and Mexico. The biz would debut on the stock market, and reap massive rewards, he promised investors.
In reality, there were no mines, and Chen had no plans to ever take the operation public – not that he could anyway as American financial regulators tend to notice things like imaginary mines.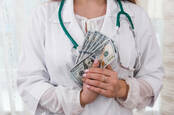 Fake docs rock real docs: Ex-Wall St guy accused of conning medics out of £27m for bogus cryptocurrency fund using faked paperwork
READ MORE
When the sale of gemstone rights and shares in the company were no longer enough to lure the investors to pay from $1,000 to $30,000 a share in his crooked enterprise, Chen pivoted to cryptocoins, telling investors their cash would be converted to "Gem Coins," a digital currency underwritten by the gemstones.
To recap, the fake mines were turning out fake gemstones that then backed fake cryptocurrencies, according to court filings. Everything comes full circle, at least.
The tax evasion charge comes from 2014, right in the middle of the gem-and-cryptocoin investment swindle. It was found that Chen's tax returns for that year only listed an income of $138,015, when in fact he was pulling $4,816,193 from the con (yes, even scam money gets taxed in the United States). The omission resulted in Chen underpaying his 2014 taxes by $1,885,094, and earned him an additional criminal charge.
Chen, of Bradbury, California, is not the only person to be prosecuted for orchestrating the US Fine Investment Arts scam. Leonard Stacy Johnson, 53, of Huntington Beach, Cali, who handled promotions for the operation, pleaded guilty last year to tax evasion and making a false statement on an immigration document. His sentencing is scheduled for June 22. ®