This article is more than 1 year old
AMD takes a bite out of Intel's PC market share across Europe amid microprocessor shortages, rising Ryzen
Mmmm, these scraps are pretty darn meaty
Intel is losing ground to AMD in every corner of the European PC industry serviced by the channel, according to official sales stats from distributors.
Figures collated by Context for Western Europe, for the fourth quarter of 2019, reveal shipments of Intel processors for notebook, desktop and workstations fell 2.3 per cent year-on-year to 5.34 million units, with market share plunging to 84.1 per cent from 91.1 per cent. This was in a market that grew 5.8 per cent to 6.348 million.
Given the dynamics of recent years, it will surprise no one that commercial PCs grew 15.2 per cent, via distribution, to 3.568 million in the final quarter. Intel expanded by 8.2 per cent, lowering its market share to 89.3 per cent from 94.8 per cent in Q4 2018. In consumer PCs, the sector fell 4.2 per cent, and Intel in particular was down 14.8 per cent to 2.153 million shipments; its total share of the spoils dropped to 77.5 from 87.1 per cent.
"This is at least partly driven by Intel's CPU supply issues," said Context senior analyst Marie-Christine Pygott. "And also to a certain extent by AMD product launches, particularly in the consumer segment."
Intel's sharper decline in consumer was because "supply constraints have been stronger in consumer processor ranges at the lower end of the market," she added.
Shortages of Intel CPUs began in the summer of 2018 as it started to switch fabrication plants to new manufacturing processes. Since then, Intel has prioritised supply to high-margin server-grade chips, with hyperscale customers first in line when it comes to component allocation.
Gartner analyst Mikako Kitagawa said CIOs still generally prefer Intel's Core processor family to AMD's Ryzen line, and that Chipzilla dominates the B2B portfolios of Lenovo, HP and Dell. It is not technically hard for large and medium-sized businesses to switch to AMD-based kit, but she said it is "time consuming for business users, especially large companies where a large number of PCs are deployed."
"Adding AMD PCs to their PC portfolio would increase PC maintenance costs," she argued. El Reg is unsure how this will increase costs outside of holding additional inventory in the shape of spares.
According to the Context Q4 distie data, Intel fared worse still in Central and Eastern Europe (CEE) as shipments of PCs containing its processors fell 8 per cent to 1.591 million in a market that dropped 1.7 per cent to 1.924 million computers. This gave Intel a 82.7 per cent share of sales in the region versus 88.3 per cent a year earlier.
Moment of Zen
Meanwhile, AMD exploited the situation to bank a healthy set of numbers via the channel. PCs using AMD chips bounced 100.6 per cent in Western Europe to 932,743, giving it 14.7 per cent of the market, up from 7.7 per cent. In CEE, AMD sales climbed 45.7 per cent to 327,876, accounting for 17 per cent of sales compared to 11.5 per cent market share in Q4 2018.
For statistics fanatics, AMD commercial PC volumes were up 200.6 per cent to 341,031 in Western Europe, and jumped 68.2 per cent in consumer to 591,712.
Intel has repeatedly told OEMs that shortages are being addressed and supply should ease and failed to deliver. Kitagawa at Gartner said she had expected things to improve in the second half of 2018 but they actually deteriorated.
"AMD got the benefit from shortages again, for sure," she told us. "Vendors have been adjusting their supply chain and introduced more AMD models as a response to the Intel shortage."
She claimed demand for enterprise PCs should fall this year, with the Windows 10 refresh cycle coming to an end, so Intel shortages may become less of an issue.
Pygott at Context isn't so sure: "Intel supply is expected to be challenged throughout 2020, so we will probably see AMD share go further up."
Intel told us: "In response to continued strong demand, we invested record levels of capex in 2018 and 2019.
"That added capacity allowed us to increase our second-half 2019 PC CPU supply by double digits relative to the first half. However, demand has continued to outpace PC supply, and supply remains tight in our PC businesses. We are continuing to add capacity so we're not constraining our customers' growth."
The plan is to add 25 per cent wafer capacity across its 14nm and 10nm nodes this year to "deliver a high-single digit increase in PC unit volumes". The spokesperson continued: "Our near-term challenge is working with our customers to support their desired product mix."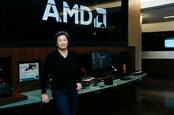 AMD really, really wants you to know its chips are doing OK without any help from Intel and its supply issues
READ MORE
AMD CEO Lisa Su went out of her way in her corp's earnings conference call last month to say its performance in 2019 was mostly down to its own excellence despite "some discussions about pockets of shortage." It pretty much claimed the same thing today, albeit in a less measured way.
"We set our company on a path for successes over five years ago with the development of our Zen processor," said an AMD spokesperson.
"What you are seeing today is the initial stages of that success based on successfully executing our strategy and multi-generational roadmap. We are gaining market and mind share based on having the strongest product portfolio in the history of the company and an expanded set of platforms available from the leading PC OEMs."
One potential damper on AMD's party could be the novel coronavirus as 25 per cent of AMD's revenues are generated in China and 30 per cent of its stuff is produced there. Disaster could be realised, or the virus could be successfully contained, though that has yet to happen in the Middle Kingdom. ®