This article is more than 1 year old
BAE Systems tosses its contractors a blanket... ban on off-payroll working under upcoming IR35 tax reforms
'As soon as I got the note saying I'm inside, I started chasing another role'
Ahead of IR35 private sector rules, defence firm BAE Systems has issued a blanket assessment on all its contractors and freelancers that forces them into PAYE terms regardless of their individual circumstances.
The notification email, sent out by BAE's Indirect Procurement Team in late January, says that assessments were made using the UK government's controversial Check Employment Status for Tax (CEST) tool. In some cases, "where roles are identical or almost identical, the assessments have been made against roles within job 'groups' rather than against the individual," the letter – seen by us – states.
The new IR35 terms mean that contractors in the private sector will have to pay the same tax and National Insurance contributions as permanent staffers, despite not receiving benefits, such as holiday or sick pay, or parental leave.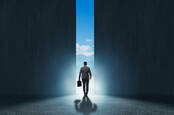 Auf wiedersehen, pet: UK Deutsche Bank contractors plan to leave rather than take 25% pay cut for IR35 – report
READ MORE
BAE contractors, who spoke to The Register on the condition of anonymity, claimed the same determination had been applied to all contractors across the company regardless of their individual situations.
"Everyone is inside. I don't know anybody that's been told they're outside. I've spoken to all my colleagues and nobody is aware of a single case," one told us.
Another said their contract was terminated after they contested the blanket determination. "There was no discussion. I kicked up a fuss, and not long after, I got a call saying my contract had been terminated."
BAE is the latest in a long list of companies that have baulked at the new rules. Several large banks – including Barclays, Lloyds, HSBC, Deutsche Bank and RBS – have blanket-banned contractors who use personal service companies (PSCs).
The reforms are part of a crackdown by the British tax collection department – Her Majesty's Revenue and Customs (HMRC) – on so-called disguised employment, whereby workers avoid paying income tax and National Insurance contributions by billing for their services through PSCs, which are taxed at lower corporate rates.
HMRC estimates that only one in 10 contractors in the private sector who should be paying tax under the current rules are doing so correctly. It has predicted the reforms will recoup £1.2bn a year by 2023. Critics have branded these numbers as bonkers.
As soon as I got the note saying I'm inside, I started chasing another role.
In comparison to the big banks, BAE says it will continue to work with PSCs, but only if they agree to work within IR35, which contractors say effectively cuts their income by as much as 30 per cent.
A blanket ban is especially problematic for BAE because it often requires highly skilled specialists to travel to remote locations. The company has ongoing projects in Barrow and the Isle of Wight, for example, as well as operations in many remote military bases, such as the RAF base in Lossiemouth, northern Scotland.
Many contractors can only afford to work in such places because they can expense the cost of their commutes and accommodation while working on site. Being found within IR35 means that contractors will have to pay for these expenses out of their own pocket.
And, for this reason, we're out...
As a result, many are seriously considering leaving before the legislation rolls out. "As soon as I got the note saying I'm inside, I started chasing another role," said one of the contractors who commutes to a remote BAE location. "There's no way I could afford to be on IR35 and still come here. I pay a significant chunk of expenses to work on this project. They would have to up my rate by 30 per cent plus to keep me on."
"I liked my job, that's why I put up with the commute," another source said. "An hour and a half in, and an hour and a half back. But they were trying to put me into a situation where I would have had no employment rights and would have been a third worse off. If I was going to be a permie, I would have picked somewhere closer to home."
Both sources said the new regulation could have a serious impact on ongoing projects. "There is a very real risk that some key people will walk out," one said. "It's not like they're going to be on breadlines, but it won't be lucrative enough for them any more. I know several teams in BAE who are worried that large chunks of their teams will soon be disappearing."
A recent survey by the Association of Independent Professionals and the Self-Employed (IPSE) said that a third of contractors and consultants working for private companies plan to leave their clients rather than face up to the new regulations.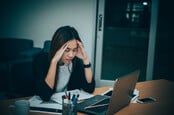 UK taxman updates its employment-checking calculator for IR35: Still crap, say contractors
READ MORE
A BAE Systems spokesperson sent us a statement: "The IR35 legislation does not change how we contract individuals, and we will continue to engage contractors through agencies and personal service companies.
"We are implementing new processes and procedures to ensure the business is ready to meet the legislative obligations of the new IR35 rules. All IR35 assessments are conducted in a consistent manner using HMRC's tool."
Many do not blame the individual companies, but HMRC's lack of clarity. "I don't particularly blame BAE. It has too many contractors to assess them all individually, and the poor legislation opens them up to liability even if they do everything right," one source said.
James Poyser, chief exec of Inni Accounts, said: "As awful as PSC bans are from the banks, at least people know exactly where they stand and they can make the decisions and move on.
"The problem with these blanket assessments is that companies might well be trying to do the right thing, but they're not going about it the right way. They are overwhelmed by the regulation and panicking."
In particular, the CEST tool has again come under fire for not working accurately. Several contractors told The Reg that the tool was flawed, giving different results at different times. HMRC stands by the tool, but previously admitted that it only provided an answer 85 per cent of the time.
Others say that by grouping employees together, BAE did not show what HMRC calls "reasonable care." A draft manual to be released by HMRC when the legislation goes live in April states that applying the tool to "a large group of workers who have some variation between the work that is being carried out" is a big no-no and could mean companies that do it are liable to pay the contractors' taxes and NI contributions.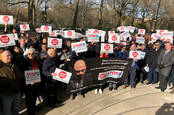 What do we want? A proper review of IR35! When do we want it? Last year! Bunch of IT contractors protest outside UK Parliament
READ MORE
"The CEST tool is so deeply flawed that HMRC have lost most of the tribunal cases where they have relied on it," said Andy Chamberlain, deputy policy director at IPSE. "How can HMRC possibly expect others to rely on this tool when even they cannot get consistently correct judgments out of it?"
The controversy surrounding the reforms brought together about 150 protesters outside the Houses of Parliament last week. The group, mainly made up of contractors and freelancers, called for the reform to be halted for at least a year.
But the government has said that it will push ahead with the IR35 rules in the private sector along with a review into the reforms. The House of Lords has initiated its own review, with a call for submissions closing less than six weeks out from the April deadline. Critics said it was "too little, too late."
If you or your team have been personally affected by the IR35 reforms, please get in touch here. ®