This article is more than 1 year old
All your base station are belong to us: Intel joins spec race with new 5G chips
Plus: Looking for a 'deep learning boost'? Chipzilla's your man
Intel will sling out fresh silicon aimed at hardware across the nascent 5G market: including new second-generation Xeon processors and a low-latency Atom P5900 for next-gen mobile base stations.
The semiconductor giant, which had been planning to launch its new chips at the now-cancelled Mobile World Congress in Barcelona, also flagged up its first all-new structured application-specific integrated circuit (ASIC) for 5G, codenamed Diamond Mesa, and a new network adapter that is also tailored for the high-bandwidth, low-latency needs of 5G tech.
Intel claims the updated second-generation Xeon Scalable processor, now at a top speed of 3.9GHz, will give a 36 per cent boost in performance and a jump of 42 per cent in performance per dollar spent versus its first generation silicon (translation: the new chips will be expensive). It also said the processor will be the first it has created that "has AI built in" giving a "deep learning boost" – claiming that the DL processing specifically takes place "up to six times faster" than its rivals.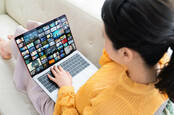 Intel's back. Can't keep it down. Back with 5G. Back in the game, back with modems... that have 'MediaTek' written on them
READ MORE
"No one is better placed for 5G success," said one Intel exec on a pre-briefing of the news, saying that the server chip was "tailored to network workloads".
As for the 10nm process base-station chip, the P5900, it is also designed for high-bandwidth, low-latency work and Intel claimed it is 3.7 times more efficient at packet balancing throughput. Intel said it will start appearing in new base stations from Ericsson, Nokia and ZTE later this year, and Chipzilla predicted it will be in six million base stations by 2024.
The company didn't provide release dates or prices but representatives did set a world record for buzzword bingo, talking about "cloudification" and "industry inflections" while opining about "multi-function compute hungry devices" and how the new chips would "unleash the full potential of data".
Despite the years of hype around 5G and the "race to 5G", the reality is that the infrastructure for the new standard is only now starting to be rolled out. Current 5G deployments are limited to cities and are non-standalone, meaning they piggyback on 4G kit; moreover, there is not a great deal of 5G-capable hardware using the tech. You can expect vendor announcements that were meant for the cancelled Mobile World Congress to change that soon.
Telco standards bods at 3GPP are currently working on studies into improving the upcoming standalone standard's efficiency – with Phase 2 (release 16) of the 5G system at its Freeze date next month, and due to reach completion in June 2020.
Intel quit making 5G smartphone modems back in April '19 after its hopes of getting its cellular modems into iPhones were dashed because Qualcomm and Apple inked a peace pact on their patent and licensing battles across the world. Intel went on to sell its 5G modem biz to Cupertino shortly after. But silicon for the base stations, servers and switches providing the backend of 5G is still very much up for grabs.
Intel has dominated the server chip world until recently, with supply constraints and fab line upgrades hitting availability. Its introduction of the new Gen 2 scalables comes against the backdrop of an ongoing industry-wide, 18-month-plus shortage of some of its Cascade Lake parts that is predicted to continue all the way through 2020. ®