This article is more than 1 year old
Afilias vanishes from battle to run Colombia's trendy .co after El Reg probes technical docs, allegations of a stitch-up
Afil-alas, we hardly knew ye
Afilias has pulled out of a controversial race to run Colombia's trendy .co top-level domain – just days after fresh accusations emerged that the tendering process favored the American corp.
On Monday, the Colombian government's technology ministry (MinTIC) published a list of bidders for the lucrative ten-year registry contract, and Afilias was not on the list, meaning it did not submit a bid before the deadline. Yet in October, Afilias was itching to land the contract.
The tendering process has been mired in controversy after a set of technical requirements released by MinTIC in November were so restrictive, only Afilias qualified. Even the company that has operated the .co registry for the past decade – Neustar – was ineligible.
That situation put a spotlight on the tendering process, and led to a growing suspicion that the .co contract was being tailored specifically for the US biz. Dozens of comments submitted by industry players to the ministry were critical of the process, and Colombia's technology minister Sylvia Constain was quizzed over whether or not she had held meetings with Afilias representatives.
She denied she had privately met executives from the company. Afilias denied any wrongdoing, too. Not that they had to, for whatever reason, meet in secrecy: a photo resurfaced of Afilias's CTO seated next to Constain at a public round-table meeting in Bogota just months before the government announced the registry contract would be going up for tender.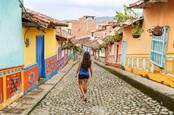 Colombia accused of rigging .co contract for dot-org provider Afilias – is this document a smoking gun?
READ MORE
Then, it was discovered the technical requirements, for those bidding to run .co domains, included references to the Public Interest Registry, the operator of .org whose back-end has been run by... Afilias since 2003. There was no legitimate reason for .org's PIR to appear in the Colombian government's tender documents for .co, further raising suspicions Afilias had supplied MinTIC with technical requirements from one of its other contracts to cut'n'paste in. Thus, Afilias could show it fits the requirements exactly, having provided those requirements itself, or so it appeared.
After we published our story highlighting the unusual mentions of PIR, a new version of the requirements document was uploaded to MinTIC's minisite, with references to Public Interest Registry removed. Afilias refused to say whether it supplied the requirement documents to MinTIC.
No comment
But wait, there's more. Earlier this month, Colombian newspaper El Espectador reported Neustar had lodged a formal complaint with Colombia's Attorney General, pointing to alleged irregularities within the process and asking for the contract bidding war to be put on hold until it could all be properly investigated.
Among the usual accusations came a new one: that a lawyer advising MinTIC on how to handle the .co registry re-tendering had a conflict of interest. She had worked for the same law firm Afilias hired to be its representative in Colombia just weeks before advising MinTIC. The lawyer in question had also written an opinion arguing the contract for .co should be put out for rebid. The law firm in question denies any impropriety.
We asked Neustar to confirm whether it sent a formal complaint to the Attorney General, and what its contents were. It had no comment at time of going to press. Afilias also had no comment.
Afilias and Neustar have been in a heated battle for control of the world's largest internet registries for several years: Neustar attempted to take control of the .org contract in 2016 after it was put out for rebid, forcing Afilias to slash its invoices by a third to retain the contract.
Afilias then took Australia's .au contract from Neustar in 2017, and Neustar retaliated by winning India's .in contract in 2018 from Afilias. The battle for Colombia's .co registry – which holds 2.3 million domains that cost double the registration price for most other top-level domains, making it extremely lucrative – was just one more battle in a larger registry war.
But with national newspapers reporting on the issue, the technology minister under scrutiny and facing accusations of misconduct, and MinTIC making changes to the technical requirements in response to complaints from the industry and El Reg's probing, Afilias appears to have decided that walking away from the rebid was a better option to competing for control.
As things stands, there are now three bidders for .co: Neustar, the current operator; Nominet, the UK's registry operator; and a new coalition calling itself the Dot CO Consortium, that comprises British registry operator Centralnic Limited alongside German domain company Team Internet and Colombian marketing outfit Central Comercializadora de Internet. ®