The top level of IT management is preparing for a recession in 2020 while getting poor results from the industry's most hyped technologies, a study by the Hackett Group found.
Following interviews with nearly 200 executives, the consultancy company concluded 94 per cent of IT leaders were preparing for a domestic recession while 91 per cent for were putting plans in place for a global recession.
The study found 26 per cent of the top IT professionals surveyed developed contingency plans for a global recession, 30 per cent have accounted for the possibility in their capital spending plans and 35 per cent have put cash aside in baseline operating plans and budgets.
"IT is being forced to build concern over recession and economic uncertainty into their budget planning," the group said, adding: "This priority may undercut IT's ability to achieve its transformation goals in 2020."
Although it did not collect data about preparations for recession in its 2019 predictions, it did say that C-suites were conservative with their financial resources in 2019, offering IT departments a 2.2 per cent increase in operating budget, on average, despite an expected 6 per cent increase in revenue.
While analytics were the second most important improvement objectives for 2020, behind security, there was also a need to improve performance in order to support "digital transformation", the report said.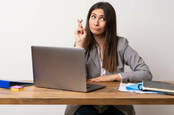 Chin up. 2019's been tough on IT spending – but next year will be great, Gartner says so
READ MORE
"Analytics and data visualisation have the largest deployment growth projections for 2020, but they are also 'critical development areas' where IT simply does not have the capabilities it needs," said Rick Pastore, a Hackett Group senior director and IT research advisor.
"As a result, advanced analytics implementations have been disappointing, and it will be particularly challenging for IT to turn this around quickly. That's a dangerous situation, particularly in light of the high growth rates expected in these areas in 2020. Corporate leaders may have unrealistic expectations about when they'll get results."
Michael Spires, the Hackett Group's technology transformation principal and practice leader said: "CIOs need to force the issue of data governance and create tools and processes that identify gaps and data siloes, while also mandating that the business and functional leaders own and address data and data reconciliation."
Despite Gartner predicting growth of in robotic process automation (RPA) of around 60 per cent, Hackett found the much-hyped field is producing disappointing results. While exactly half of organisations surveyed were investing in the technology, 47 per cent of them found it fell short of expectations.
But it was not the only technology to disappoint. Chatbots and virtual assistants fell short of expectations for 73 per cent of organisations. Analytics, AI and data visualisation tools disappointed IT leaders in around 50 per cent of implementations.
Which makes The Reg wonder if IT leaders are being short-sighted in preparing for a recession when so much of the technology they are being asked to invest in fails to fulfill its promise. It seems they know on which side their bread is buttered.
The full study is on the Hackett Group's website. ®