This article is more than 1 year old
Talk about making a rod for your own back: Pot dealer's seized €54m Bitcoins up in smoke after keys thrown out with fishing gear
Cops hope for high-tech solution
A small-time criminal's seized €54m Bitcoin fortune has been lost – after the digital keys to unlock the loot were, get this, accidentally thrown away.
Between 2011 and 2012, Dublin-based pot dealer and one-time award-winning beekeeper Clifton Collins splashed a bit of cash from his whacky-baccy enterprise on thousands of bitcoins – at the time valued at less than €46 ($50) apiece. While some of the cannabis cash would go to hobbies, including a two-seat gyroplane, most was socked away in Bitcoin. He then held onto the cryptocoins for several years, and even planned to diversify his portfolio.
"In early 2017, he had just over 6,000 Bitcoin in one account, but he feared it may be too easy for a hacker to access," the Irish Times noted this month. "He decided to spread his wealth across 12 new accounts and transferred exactly 500 Bitcoin, worth almost €4.5m, into each of them."
The keys to those accounts were written on a piece of paper and stashed with Collins' fishing rod for safekeeping.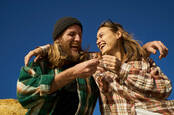 Colorado cryptocoin execs spark up blunt '$722m ponzi scheme' criminal charges after investments go up in smoke
READ MORE
But later that year, Collins was cuffed and jailed for five years for drug possession, as dealers are prone to do. Believing his tenant was no longer able to make rent, Collins' landlord emptied his house and threw out, among other things, the pot peddler's fishing gear.
As it turns out, within the aluminum case of the weed-slinger's fishing rod was the sheet of A4 paper on which the digital keys to 12 Bitcoin wallets was scribbled. The paper was, among Collins' other belongings, sent to a dump in Galway and, it is believed, ultimately incinerated at a facility in either Germany or China.
While Collins was able to get to €1.5m in Bitcoin from a separate account, the bulk of the fortune went... er... up in smoke, apparently. It is estimated that the the 12 accounts, now technically property of the Irish Criminal Assets Bureau (but inaccessible due to the keys being lost) would have been their biggest haul yet.
"It means the €53.6m ($58.1m) monetary value of the Bitcoin inside them, which is the biggest case in the CAB's 25-year history, is out of the bureau's reach," noted the Times. "Garda officers said they were hopeful advances in technology would one day enable them to access the Bitcoin so it could be sold."
As for Collins, we're told the fella has come to terms with his lost fortune, and has written off the missing funbucks as "punishment for his own stupidity." ®