HP Ink: No way, Xerox. We're not accepting your takeover. Well, we'd never say never. Maybe even maybe? Hello, you still there? Please?
Absolutely not entertaining an offer that could you just repeat one more time?
HP on Monday delivered better quarterly financial results than expected.
Crucially, it extended an olive branch to Xerox, offering a potential path to a mutually acceptable merger deal while continuing to dismiss its suitor's current proposal.
The PC'n'printers maker reported sales of $14.6bn from the first quarter of its fiscal 2020, which ended January 31, representing a 0.6 per cent drop from the year-ago period and in-line with the analyst consensus estimate.
Profits fell over 15 per cent to $700m, and earnings per share (GAAP) came to $0.46, which while down from $0.51 a year ago managed to exceed the company's estimate range of $0.39 to $0.42.
HP's operating margin for the quarter came to 5.9 per cent, down from 6.3 per cent in the first quarter of 2019. On the computer maker's earnings call with analysts, CFO Steve Fieler said gross margin was 19.6 per cent. The US tech titan's Personal Systems net revenue rose 2 per cent year-on-year, with an operating margin of 6.7 per cent. HP's commercial computing revenues rose 7 per cent, while its consumers systems revenues fell by the same amount.
Its Printing division saw revenue decline 7 per cent year-on-year, with consumer printing revenues falling 13 per cent, commercial down 1 per cent and ink sales fell 7 per cent. Operating margin came to 16 per cent.
Unfortunately for the company, HP's printer business elicited a lawsuit from The Schall Law Firm in Los Angeles on Friday. The lawyers claim HP misled investors by misstating demand for its commercial printing service by at least $100m between February 23, 2017 and October 3, 2019.
Shortly after HP's earnings announcement, the biz's shares jumped five per cent, which can be attributed largely to the disclosure of a Strategic and Financial Value Creation Plan.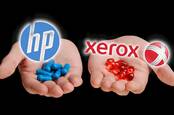 This is your last chance, HP. There's no turning back. You take blue poison pill, the story ends. You take the red Xerox pill, you stay in Wonderland
READ MORE
The board of directors for the personal computer slinger has established a capital return program that calls for giving $16bn, about half the company's capitalization, to HP shareholders over the next three years. It also entails increasing its total share repurchase authorization to $15bn, up from the $5bn announced in October last year.
The board also left open the possibility that it could work things out with Xerox, which has been pursuing a hostile takeover.
"HP is reaching out to Xerox to explore if there is a combination that creates value for HP shareholders that is additive to HP's strategic and financial plan," the corp said in its plan. "HP's Board of Directors is committed to pursuing the most value-creating path and to serving HP shareholders' best interests."
At the same time, CEO Enrique Lores on the earnings call stressed that the current Xerox acquisition offer is not in the best interest of HP shareholders. "The Xerox proposal meaningfully undervalues HP," he said.
Some of the "value creation" in the company plan may take the form of continued workforce reduction. About 800 employees left HP in Q1, said Fieler.
Lores and Fieler both said the coronavirus (COVID-19) outbreak would have a temporary impact on company performance. In Q2, Fieler said, it will reduce EPS by $0.08.
"We do view the situation as a temporary situation," said Fieler. ®