This article is more than 1 year old
Would-be .org gobbler Ethos Capital promises to keep prices down in last-ditch effort to keep $1.1bn deal alive
Private equity outfit makes concessions, key questions still remain
The little-known private equity firm trying to buy the .org internet registry for $1.1bn has made a last-ditch effort to keep the deal alive, promising a series of commitments over pricing and control.
Ethos Capital has announced "legally-binding and enforceable measures," over the sale – even as DNS overseer ICANN asks more questions about the organization's finances and corporate structure in a letter to the company that runs the registry, Public Interest Registry (PIR).
Those measures address some of the most significant concerns raised by the internet community since the proposed purchase was announced. Specifically, Ethos has promised that it will not increase the price of .org domains by more than 10 per cent per year, for eight years, and that any price increases won't be front-loaded.
It has also released some details about its proposed "Stewardship Council", saying that the new body will have a veto over several aspects of the registry's operations, including blocking policies and data-use. And it said it will launch a $10m "community enablement fund" whose aim will be to "provide support for initiatives benefiting .org registrants."
Those measures will be included within a "public interest commitments" (PIC) document that is legally associated with the .org registry contract held by ICANN.
The commitments have been heavily promoted within the internet industry, complete with press releases and a PR firm offering to answer questions where previously Ethos has largely avoided discussing its plans.
It's not clear if the gambit will work however. There remain numerous questions over Ethos Capital, its bid, and its plans for the .org registry. The internet community is suspicious of the unknown organization that was started in secret by a former CEO of ICANN, as well as several former ICANN employees, including one who has written a blog post explaining why the PIC construct is such a good idea.
Don't PIC at it
The PIC is a smart decision, in that it works within the confines of ICANN's own legal structures. The organization developed the entire concept in order to address concerns around new internet extensions. However, despite their theoretically enforceability, ICANN has shown little or no appetite in reviewing or enforcing the many PICs held by other registry operators.
The promise to keep price below a 10 per cent price increase is also notable for the fact that it will only cover eight years of a ten-year contract. This leaves the way open for a large increase in prices toward the end of the contract; something that people are concerned will result in a massive cash-out come 2029. And while the "Stewardship Council" would appear to have real teeth, it is also notable that control of the council will rest with PIR and it will not have a veto over price controls.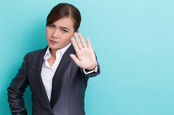 Now Internet Society told to halt controversial .org sale… by its own advisory council: 'You misread the community mindset around dot-org'
READ MORE
The council will have seven voting members, according to charter documents published by Ethos; five of which will be "selected and appointed by the PIR Board or its designee." The other two, and subsequent board members will be selected by a Nominating Committee – but that committee's members will also be selected by the Stewardship Council.
In addition, any new board members will be "subject to approval by both the PIR Board and the .org Stewardship Council." In other words, the process will be controlled by PIR.
And control is the biggest question when it comes to not only the future of .org, but also its proposed purchaser – Ethos Capital.
Ethos Capital will not be the actual owner of .org if the deal goes through: instead it will be another unknown company called Purpose Domains Direct LLC, based in Delaware. That company is seemingly owned by another company called Purpose Domains Holdings LLC. It is unknown who the owners of either company are nor what their corporate structure is.
But it gets even more confusing: a letter [PDF] sent by ICANN's lawyers asking for details of these various shell companies identified a third Delaware company called Purpose Domains Investments LLC.
The Fifth Man
From ICANN's letter:
"It appears that a number of entities/individuals may have a 'control' relationship post-transaction or otherwise have minority interests with the right to appoint two individuals to the Board of Managers of Purpose Domains Investments, LLC (and each of its subsidiaries, including PIR).
"Please provide the identity of the minority investors and a representation with respect to each minority investor regarding whether such investor has the ability to exercise control over PIR. Please provide the information previously requested (in this question and in others) for all entities with control over PIR."
In other words, surrounding the purchase of .org is a series of shell companies who may or may not own one another whose directors may or may not have voting powers. It also appears that Ethos Capital is going to extraordinary length to shield the name of one individual.
ICANN has received confidential information from Ethos/PIR about the various companies but notes in its new letter: "ICANN requested certain information regarding the directors and officers of the post-transaction entities (and Affiliates). PIR has provided information with respect to four individuals who will serve on the Board of Managers of Purpose Domains Investments LLC. There are five seats on that Board of Managers. Please identify the fifth director."
And if you think all of that sounds suspicious, you're not the only one. The Electronic Frontier Foundation (EFF) has approached the Federal Trade Commission (FTC) asking it to "review the leveraged buyout" and asked ICANN to publish the information it does have.
As for Ethos' new "legally-binding and enforceable measures," neither the EFF nor nonprofit advocacy group NTEN is impressed. "The changes announced today by Ethos do not provide the protections and security that the community has been asking for over the last three months," said NTEN CEO Amy Sample Ward.
"The pricing clause that offers a 10 per cent annual increase on average and only for the first eight years does not speak to the real concerns raised by nonprofits around the world about pricing protections for the long term."
In the meantime, the current actual real owner of .org – the Internet Society – faces a rebellion by its own members, angry at its board making the decision to sell in secret and with giving them a say or even advance notice. ®