Dear makers of smart home things. Yeah, you with that bright idea of an IoT Candle. Here's an SDK from Amazon
Management software for smart devices to ease entry into ecosystem
Updated This week, Amazon announced a software layer to help Internet-of-Things makers integrate Amazon Device SDKs with their IoT gear, further complicating the already confusing technical landscape of dubiously secured, privacy-challenged network-ready appliances.
Amazon Common Software (ACS) for Devices is offered as a preview to developers willing to ask the Seattle-based server rental and tchotchke shop for admittance.
It offers an API integration layer for common IoT device functions, like Bluetooth and Wi-Fi connectivity, device-to-cloud and intra-device networking, device management (metrics, logging, updates), and audio/video handling.
It doesn't include code intended to handle the higher-level, user-facing functions addressed by Amazon Device SDKs, like the Frustration-Free Setup SDK, the AWS IoT Device SDKs, and the planned Alexa Voice Service Device SDK.
While ACS for Devices shares some of the goals of the Pelion platform backed by Arm and Intel, it's also a common foundation layer for Amazon-friendly IoT hardware, simplifying integration with the above-mentioned Bezos-aligned software frameworks.
"At Amazon, we understand the complexity and effort needed to develop and ship a high-quality connected device," said Joshua Danovitz, director of ACS, in a blog post. "ACS makes proven software from Amazon devices easier to use for device makers who want to quickly launch a device supporting Amazon Device SDKs, including FFS and AWS IoT SDKs."
Danovitz pitches ASC as a way to help hardware makers develop devices with features people care about quickly, without getting stuck in the technical weeds.
Device makers have a variety of other options for adjacent platform ecosystems. There's Apple's HomeKit Accessory Protocol Specification, which for commercial products also requires certification and an undisclosed royalty under Apple's MFi Program. There's the Thread Group, which Apple joined in 2018. There's Zigbee, another IoT networking protocol that's royalty-free (despite the existence of a royalty-free variation) but offers certification to paying members. And there's Z-Wave, still another IoT device networking standard.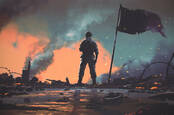 The IoT wars are over, maybe? Amazon, Apple, Google give up on smart-home domination dreams, agree to develop common standards
READ MORE
Thread now looks like the winning IoT device networking protocol, but the dust hasn't completely settled.
Last December, Amazon, Apple, Google, and Zigbee launched a working group called Project Connected Home over IP. Managed by the Zigbee Alliance (but separate from Zigbee 3.0/Pro protocol), the group intends to hammer out "a new, royalty-free connectivity standard to increase compatibility among smart home products, with security as a fundamental design tenet."
They're doing so because compatibility and security have been scarce since home automation became a popular idea. The fear is that in the longer term this could seriously harm the overall market.
Perhaps not coincidentally, one day later, the Z-Wave Alliance, left out of Project Connected Home over IP, announced a plan to open up Z-Wave spec and separate from Silicon Labs, the company that controls the technology.
All this, so home automators can shout, "Alexa, bake this 3lb salmon" at their smart ovens instead of manually setting the temperature and time when they're standing oven-side, placing the fish within.
The Register asked an Amazon spokesperson to provide more details on ASC and its licensing terms. We've not heard back. ®
Update: In an email sent to The Register after this story was filed, an Amazon spokesperson said that access to ACS is governed by the Amazon Developer Services Agreement and the Program Materials License Agreement.