This article is more than 1 year old
Revolut-won: British banking app gets half a billion bucks in backing, seeks to subvert today's market incumbents
Biz bags fat funding round
Revolut, the British-based mobile banking app, has raised $500m (£385m) in fourth-round funding which gives it a theoretical value of $5.5bn (£4.3bn).
The money will go on further developing its software and rolling out banking across Europe. Revolut is one of several firms like Monzo and Starling muscling in to get a chunk of the fees charged by established banks and aiming to bring together financial and banking services into one app.
The startup got a European banking licence in late 2018, granting protection of up to €100,000 on deposits as well as allowing the company to offer overdrafts and loans. But progress to the brave new world has not been entirely painless.
Revolut, which launched in July 2015, now employs over 2,000 people in 23 offices and claims 10 million customers. The funding was led by US venture capital firm TCV.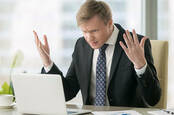 IT outages in the financial sector: Legacy banks playing tech catch-up risk more outages, UK MPs told
READ MORE
Nik Storonsky, a former Credit Suisse trader and the founder & CEO at Revolut said: "We're on a mission to build a global financial platform – a single app where our customers can manage all of their daily finances, and this investment demonstrates investor confidence in our business model...our focus is on rolling-out banking operations in Europe, increasing the number of people who use Revolut as their daily account, and striving towards profitability."
The app lets you exchange currencies at the interbank exchange rate, or for 0.5 per cent if you go over £5,000 a month. It also offers insurance, global payment and cryptocurrency services – its eventual aim is to provide a mobile-based fully-featured finance application.
Basic personal accounts are free with options at £6.99 and £12.99 a month for more fully-fledged services. Business accounts offer company credit card management and automated payroll or other payment services – prices range from free to £100 a month, with enterprise customers getting tailored services for an undisclosed fee.
TCV, based in Menlo Park, California, has put $13bn into mostly technology firms, and $1.5bn into financial tech firms, since it was founded in 1995. ®