This article is more than 1 year old
Data science pusher Dataiku hooks arms with NATO on battlefield AI contract
How'd you kids meet? Oh, we were helping control an imaginary disease outbreak in a landlocked country
Data science platform Dataiku is teaming up with military alliance NATO to create a system to help it build and "deploy" AI projects.
The deal with NATO's Allied Command Transformation (ACT) aims to use Dataiku's tech and data scientists to solve some of the most "challenging use cases in the field", NATO said, vaguely, without specifying the type of thing they were referring to.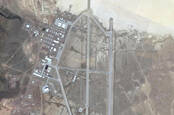 I spy, with my little satellite AI, something beginning with 'North American image-analysis code embargo'
READ MORE
"We were looking to expand our use of data science, machine learning, and AI in the organisation," said General André Lanata, NATO supreme allied commander for transformation. "We are invested in sharing ACT's progress with other member states, with the goal of expanding competencies and successful, deployed use cases of AI projects in the field."
Dataiku makes Data Science Studio - an advanced analytics and collaborative data science tool - which comes up against the likes of Teradata, Talend, and IBM. The seven-year-old startup has been valued at $1.4bn and inhaled $101m in its last funding round in December last year.
Dataiku CEO Florian Douetteau said of the military deal: "NATO ACT is in the unique position to leverage data science and machine learning to have global impact."
Earlier this week, the US Department of Defense adopted a set of "ethical principles" on the controversial topic of the deployment of AI technology for military use. Google dropped its association with computer-vision software Pentagon project, Maven, after internal and external backlash last year.
Dataiku got its introduction to NATO via an "innovation hub" competition in Paris, 2018. In an incredibly prescient imaginary scenario, participants were asked to assist in the control of a disease outbreak in a landlocked country.
The outbreak led to a public health crisis complicated by the emergence of rebel groups attacking medical supplies.
The Dataiku team won two of the three gongs up for grabs by applying object detection with deep learning on aerial imagery. Let's hope it does not need to put any of the lessons learned into practice any time soon. ®